AMERICAN HOLLOW Whisper Campaign (2010)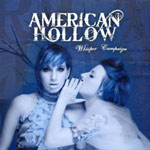 American Hollow are a four-piece from the Appalachian foothills of Kentucky formed in 2001, though this is their first album.
Described in their blurb as 'the love child of Pink Floyd and Tool' and 'a progressive metal band' - I beg to differ on both counts. You can hear a bit of Tool in there, but the overwhelming influence is a hybrid of Nirvana, Creed and perhaps Porcupine Tree at their most industrial.
On first listening, I have to admit my first instinct after track one, 'Terronoia', was to eject and Frisbee to the bin. A poorer opening track you couldn't imagine - a dirge-like mess of random guitar noises topped off with a drum beat sounding like it was recorded at a military funeral.
However, stick with it, as things pick up from here on in and it develops into a rather fine piece of work. The aforementioned Nirvana influence is a good touchstone here as crunching guitar riffs are offset by intervals of subtle, ambient space, which lighten what is otherwise a very densely textured work.
Many good things here, but for me the standout is 'Constant', rock hard riffing, great vocals and some lovely guitar arpeggios combine to create a track that certainly wouldn't be out of its depth on any of the name-checked bands' oeuvres.
So, not progressive metal then, more straight ahead American rock, but none the worse for that and with their ability to generate space to let the music breathe, their star could well be in the ascendancy.
That first track is still sh*te though, so one star deducted
***
Review by Alan Jones
---
| | |
| --- | --- |
| | Print this page in printer-friendly format |
| | |