AGENTS OF MERCY The Black Forest Foxtrot (2011)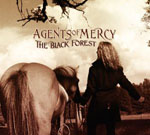 Blimey! Just how can anything surrounded by so many progressive rock clichés sound this good?
Agents Of Mercy are unashamedly retro prog-rock in almost every respect. For starters they're a supergroup fronted by Roine Stolt and Jonas Reingold from the Flower Kings. Add to this the fact that 'The Black Forest' is a concept album then top it off with no track clocking in at less than six minutes and you should be scared off like a fox at an electric fence.
What rescues it from the quagmire of mundanity is exceptional songwriting backed up by stellar musicianship from all concerned. Despite the fact that the mine of early '70s progressive greats has been well and truly excavated, there is a seam of contemporary nuggets here exposed by the sheer diversity of the material.
Genesis, Yes, Pink Floyd and King Crimson are all name-checked, but then so are Black Sabbath, Led Zeppelin and Deep Purple. Add to this a soupcon of jazz, folk and Medieval to the mix and you start to get a feel for what this is all about.
Eight tracks in all and not a duffer to be seen. From the classic prog rock of the title track to the Sabbathesque riffing of 'Black Sunday', from the quiet elegance of 'Elegy' to the staggering guitar solo on 'Kingdom Of Heaven' AOM have exceeded anyone's expectations here with an absolute belter of an album.
Mention must be made of all the musicians involved - Roine Stolt (Flower Kings, et al) leads the way with top notch fretwork throughout, Lalle Larsson (Karmakanic) backs this up with superb keyboard dexterity and Nad Sylvan (Unifaun) just has one of those voices that suits every track - ranging from Gabriel one minute to Jon Anderson the next and all points in between. Add on the rock-solid engine room of Jonas Reingold and Walle Wahlgren (Weaverworld) and you have all bases covered.
Given that the world of music is littered with failure when it comes to supergroups, Agents Of Mercy have bucked this trend with a truly exceptional album which, given enough exposure, could easily outstrip the reputations of its component parts.
Stunning.
*****
Review by Alan Jones
Alan sequences "The Eclectic Mix" on the third Sunday of every month on Get Ready to ROCK! Radio, and usually manages to include some prog.
---
| | |
| --- | --- |
| | Print this page in printer-friendly format |
| | |