AFTER HOURS Against The Grain AOR Heaven (2011)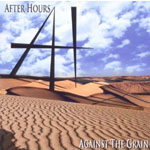 Much to my regret, none of the generation of British AOR hopefuls I used to follow at the Marquee in the eighties really made it. But they left in their wake some neglected classics, one of which was 'Take Off' by South Coast band After Hours. They swiftly disappeared from view and I never realised a second album was also sneaked out. However in the wake of reformations from contemporaries FM, Airrace and Strangeways, three original members have unexpectedly returned for another crack.
The jewel in their crown was always singer John Francis, and it is heartening to report his voice still holds comparison with the best after so many years away from the scene. Slightly unusually, he has a raspy, gravelly tone, yet takes on an almost Perry-esque soaring smoothness as he slips into the high notes.
Opening with the hard driving 'Stand Up', much of the album is pure AOR at its finest with the slick melodies and catchy choruses of the likes of 'Turn On Your Radio', 'Angel' and 'Let it Go' (although you would be right in surmising from these song titles that they tread no new lyrical or musical ground!)
However on a couple of numbers they go in a more varied direction, with the atmospheric feel of 'Eleventh Hour' which would make an excellent soundtrack and is present in both electric and acoustic versions, and the album's title track, which moves from an acoustic rootsy blues into full on electric mode in the mould of Cinderella or Bon Jovi's Wanted Dead or Alive - indeed with some very Sambora-esque sounds from guitarist Tim Payne whose solos are crisp and fluent throughout.
'I Want Yesterday' is another with a chorus that lodges in your brain while 'When You're Around' and 'I Need your Love' are more expansive ballads with a lush feel to them.
I was dubious whether there was an obvious market for an After Hours reformation, and yet this is an excellent, finely crafted piece of work. Now how about building some momentum behind it with touring plans?
****
Review by Andy Nathan
---
| | |
| --- | --- |
| | Print this page in printer-friendly format |
| | |