AARDVARK Aardvark Esoteric (2011)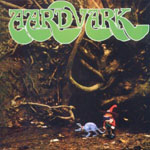 Whether purely the allure of the African nocturnal mammal of the same name or the possibility of being first in line to extricate pocket money from the more assiduous retail rack browser that prompted the nomenclature of this obscure outfit is immaterial: Aardvark's tenure on the planet was brief but for this bright spark recorded for Decca's nascent Nova label.
Produced by David Hitchcock, increasingly noted these days for his work on pioneering Brit prog, this likeable effort derives much from coupling the diverse repertoire of classically-trained vocalist David Skillin to confident keyboards from Steve Milliner.
Lead guitar-free, the band is pretty much in the latter's hands but he serves them well, dolloping rich chunks of Hammond to heavy opener 'Copper Sunset', Zombies sound-alike piano on 'Very Nice Of You To Call' and leads the charge on early Soft Machine-influenced 'The Outing' and frenzied closer 'Put That In your Pipe And Smoke It' - the last to be the album's original title until anxious Decca suits axed the idea on the grounds it may reference drugs (yike).
Feeling unloved, the band folded soon after, scattering members into the arms of Home, Quiver, Natural Gas and Affinity amongst others. Pity - this has more than a few moments.
***
Review by Peter Muir
Peter presents 'Progressive Fusion' on Get Ready to ROCK! Radio every Sunday at 19:00 GMT
---
| | |
| --- | --- |
| | Print this page in printer-friendly format |
| | |