A PALE HORSE NAMED DEATH And Hell Will Follow Me SPV (2011)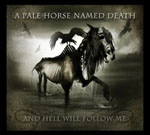 A Pale Horse Named Death feature Sal Abruscato (Type-O-Negative/Life Of Agony) on guitar and vocals, drummer Johnny Kelly (Type O Negative), guitarists Bobby Hambel (Biohazard) and Matt Brown and bassist Eric Morgan. As you'd expect this album has more than a feel of Type O Negative about it, mixed with some grunge a la Alice In Chains and finally a few industrial riffs recalling Ministry in their pomp.
The titles if nothing else give a clue to the gothic air that prevails on the album, mind you 'Serial Killer' despite its title is made for radio as it is damn catchy. Not sure the lyric would get past some radio stations though... 'Die Alone' is very Type O Negative, featuring a massive doom riff and powerful drums. Lou Reed's saxophonist Ulrich Krieger guests on this one adding a neat musical twist to the song. Pete Steele is sadly no longer amongts us but you can hear his influence in this song.
'Pillhead' could become a stoner rock anthem, imagine Hawkwind jamming with Alice In Chains. Again it has an instant melody that will appeal to listeners who wouldn't normally give this style of music a second listen.
Definitely of interest to fans of Type O Negative although the band have not set out to replace them, merely carry on some of that band's musical ideas and meld them with some grungy riffs.
***½
Review by Jason Ritchie
---
| | |
| --- | --- |
| | Print this page in printer-friendly format |
| | |