Just witnessed your best live gig?.. send us a review!

RHYTHM FESTIVAL, Biggleswade, Bedfordshire
26-28 August 2011
Photos by Noel Buckley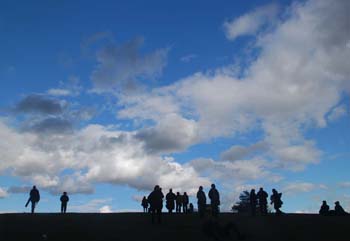 Photo: Tim Beckerley
Now in its sixth year the Rhythm Festival has moved to some new grounds from the much loved Twinwood. Now held at the Mansion House in the picturesque grounds of Old Warden Park near Biggleswade, Bedfordshire.
A weekend full of great music ranging in styles of blues, folk, rock, rockabilly, punk and even reggae. There's even a comedy stage for those who fancy a giggle.
---
Uniquely, Hazel's set comprised her entire 'Breaking Glass' album from the soundtrack of the film, and supported by an outfit called 'The Subterraneans', keen as mustard and tight as a drum.

---
Tim Beckerley writes
Friday 26 August 2011

Photo: Simon Godley
HAZEL O' CONNOR

By the time Hazel O' Connor opened her set, the deluge was over. This was fortunate since the hordes of wet, wavering punters sheltering in the beer tent would not have shifted if the ghost of Hendrix himself was blasting out 'Voodoo Chile'.
Uniquely, Hazel's set comprised her entire 'Breaking Glass' album from the soundtrack of the film, and supported by an outfit called 'The Subterraneans', keen as mustard and tight as a drum.
By turns, boisterous, angry and passionate, some of the Breaking Glass lyrics (as Hazel pointed out herself) seem more pertinent now what with the urban angst of recent times.
A very credible cover of the Stranglers' 'Hanging Around' was much appreciated, her vocals considerably softer than Hugh Cornwall's and the sax giving it that unique edge, though I really missed that almost melodic bass from the original.
Even the hardest-hearted heavies amongst us were blown away by her timeless and iconic hit, "Will You". Hazel's voice here was gutsier than the recording, then she backed off to let virtuoso Claire Hirst do her work as those incredible, plaintive notes wafted over the verdant fields of Bedfordshire. This was sax appeal to die for.
ROADHOUSE

These guys and gals are a powerhouse of exuberance, a riot of fun for grown-ups. Roadhouse are a good old fashioned blues band with a rock quotient the texture of granite.
Their two female vocalists, wild and raunchy as hellcats, helped rack up the decibels while cavorting around the stage, a couple of lovable brazen hussies.
Gary Boner, the band's founder and ace lead guitarist, delivered some terrific scorching solos while the rest of the band mucked in with the force of a musical sledgehammer.
If you like your blues low down and dirty and good 'n' loud, then Roadhouse were the band to check into.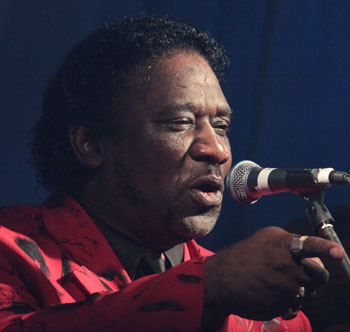 Photo: Simon Godley
MUD MORGANFIELD

What blues aficionado could resist a performance by Son of Muddy Waters? Mud (a name much more applicable to Reading this year) commandeered the stage in his fetching scarlet threads and a hold-all packed with charisma.
Paying due reference to his much revered ol' man, he also threw in a few numbers of his own, backed by a core of musicians called The Dirty Aces. They all seemed to be having a whale of a time and the man himself, a stalwart from the Chicago blues scene, was a master showman, his voice a curious mixture of gravel and honey.
"I'm certainly not trying to be Muddy Waters" he said. And he didn't need to.
Much respect to the Rhythm Festival's very own Hoochie Coochie Man.

Photo: Simon Godley
Mark Taylor writes
Also on the main Penrose Stage were tonight were Dodgy who had some massive hits in the 90's with Good Enough and Staying Out For The Summer. Headliners were original punks legends the Buzzcocks. The next day I was chatting to security who said it was bedlam down the front. So I think it's safe to say the Buzzcocks more than delivered.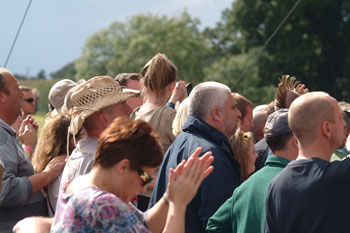 Saturday 27 August 2011
As Buckers and I arrived on site on the Saturday we were immediately surprised by the plush surroundings. As we travelled down slowly on the gravel driveway past the grand Mansion House we almost wished we had packed the Pimms and strawberries. It certainly made a pleasant change from the festivals I normally attend like the crust invested Reading Festival that was also happening on this Bank Holiday Weekend.
Being a typical English summer the sun was in and out as fast as I am to the beer tents, dark clouds were on the horizon, so before we cracked open our first tinny of the weekend it was time to quickly put the tents up before Buckers' back gave out.
Sandi Thom was providing the soundtrack for us in the background. Finding a nice spot, there was plenty of room to camp and unlike other festivals, you could camp next to the car...Nice.
Buckers was keeping his head down as there was a light aircraft runway in the adjacent field. Buckers was also worried that I may go for a ride on the emu at midnight which was in a pen in the field opposite.
Tim Beckerley writes
SANDI THOM

Sandi Thom's compadres sure as hell know how to rock. Drums and bass drive on the band from behind giving the entire set a surge of raw blues power. Opening with Valley of the Blues' followed by 'Heart of Stone', these strong vocally driven tracks show this Scottish artist's sheer passion for the genre.
The backing vocalist seemed a bit redundant for much of the time while Randall, her guitarist didn't come into his own till a nice slide solo showed what he could really do.
Sandi's gritty, forceful vocals really came into their own with some outstanding covers. Fleetwood Mac's 'The Chain' was a rocked up and less pop-orientated version while 'House of the Rising Sun' offered a tough and raw female alternative to the mighty Eric Burdon. Sonny Boy Williamson's classic "Help Me" gave Sandi a chance to display some outstanding harmonica work.
Along with her well known single, 'I Wish I Was A Punk Rocker', Sandi Thom comes across as a performer and songwriter ahead of her game, self-confident, and oozing raw talent. And she looks great too.
Mark Taylor writes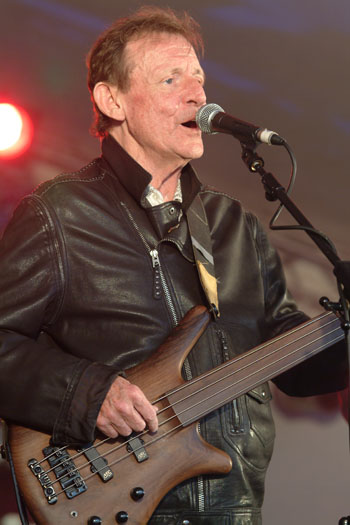 JACK BRUCE

Jack Bruce was accompanied by Norman Beaker on guitar and his band. Ironically the heavens opened up for Sunshine Of Your Love which luckily didn't last too long but the rain did create a large beautiful rainbow that overlooked the grounds and at the end was a pot of gold with a great set of deep melancholic blues. Beaker and his band complemented Bruce more than any other artists that Bruce has worked with in recent years with the Creme de la Cream of such great tracks such as Politician and White Room. A classy set.
---
My biggest surprise of the weekend was the Oysterband. A band I knew by name but not by the music. Often locked into the folk scene, the band have a much broader appeal. Think REM with violins and your half way there.

---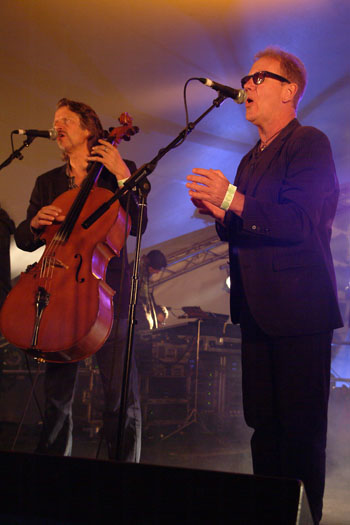 THE OYSTER BAND
My biggest surprise of the weekend was the Oysterband. A band I knew by name but not by the music. Often locked into the folk scene, the band have a much broader appeal. Think REM with violins and your half way there. There wasn't a dull moment in their set and the songs have a rocky edge. Everywhere I Go is a singalong anthem. I was immediately hooked and will be definately checking out there back catologue. It amazed me why this band are not more widely known. Maybe their fans know it's best to keep them a secret, but count me in.
Over at the indoor Albone Stage was Tracie Hunter: not many here realised she is the daughter of Ian of Mott The Hoople fame, but Tracie doesn't need to brag about her family's name. She is slowly building up some great songs of her own. Shame I couldn't stick around to see her whole set but well worth checking out.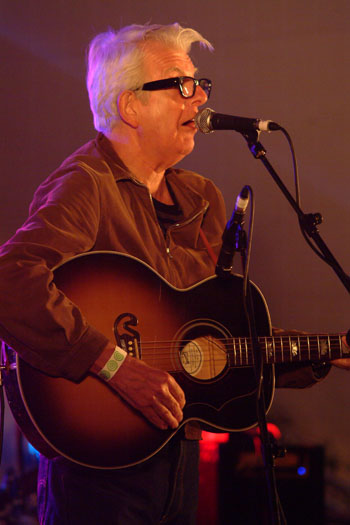 The pivotal singer songwriter Nick Lowe was on the main Penrose Stage. After a slow start the crowd soon warmed to his Englishness. A connoisseur set which included Cruel To Be Kind and I Knew The Bride which got the ale drinkers swinging their hips.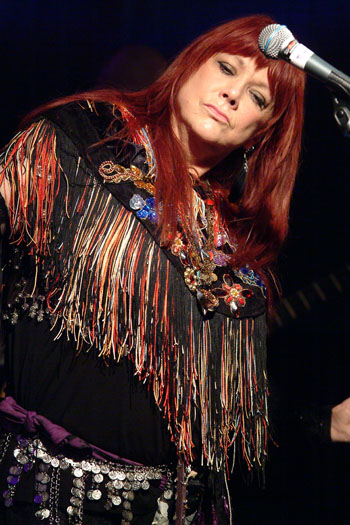 As with all festivals there will always be that one stage clash that will annoy. Curved Air and Imelda May were both on stage at exactly the same time but as I had seen Curved Air earlier in the year I decided to stay put. But, as a young Buckley had posters of Sonja Kristina Linwood on his wall when he was still running around his milk round in his shorts, he was off to take some more photo's of Sonja who still looks lovely. Now he can still put some pictures of her up on his wall (although these days at his workplace, don't tell the wife...)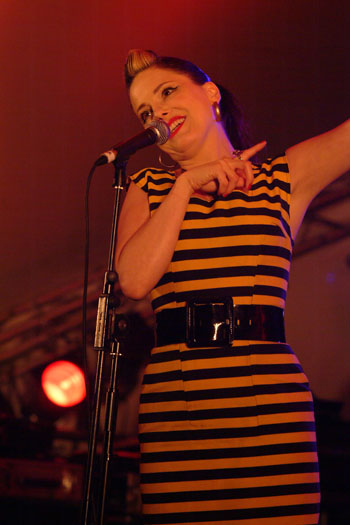 IMELDA MAY
Imelda May had all the right ingredients to make everyone happy. The Irish singer had a mixture of everything with her rockabilly blues blended with traditional Irish sounds with the bodhran.
Looking authentic and stylish in her fifties dress May and her fine band played songs of instant greatness .Big Bad Handsome Man, Johnny Got A Boom Boom and Kentish Town Waltz were highlights and even her unique covers of Train Kept A-Rollin' and Tainted Love (The Soft Cell classic originally done by Gloria Jones who later married Marc Bolan trivia fans) were highly refreshing. It won't be long before Imelda May will be a big household name. A real coop for the Rhythm Festival organisers.
The music was over but the night certainly wasn't. We met up with our good friend BBC Cambridge radio DJ Sue Marchant and her good buddy lucky Heather for some laughs and a few late night tipples.
Bizarrely it was hard to have a sensible chat as next door was holding the silent disco. Now for those of you who don't know what a silent disco is, let me try to explain.
Hoards of people have got earphones on, but listening to different music which the outsider cannot hear. It was very surreal watching watching folk who are more than Brahms 'N Lizst throwing John Travolta moves whilst trying to have a sensible conversation. Well that was my excuse for not saying anything of an intelligent nature at this time of night. Ha...ha we laughed all the way back to our tents.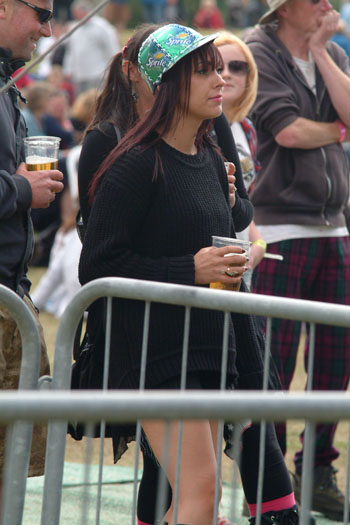 Sunday 28 August 2011

Waking up early on Sunday morning Buckers was up early politely listening to the guy camping next to us, who was informing him on how to get lucky with the 'chicks'.
After laying in my tent for a minute of listening to that I decided to play dead and lay in my tent for a further hour. I did eventually decide to make a few grunts and groans in my way of informing Buckers of putting the kettle on the camping stove for my morning brew.
After watching a couple in front of us stuff their faces non stop with bacon and sausage sarnies our own bellies were rumbling a good-un. Sensibly the restaurant in the Mansion House is open to the festival goers so it wasn't long before we had our own smug faces although with the egg dripping down our mush.
Sunday morning also gave us the chance to stretch our limbs and have a proper wander around the festival site. A common site at festivals in recent years is a funfair, though this one is sensibly placed totally away from earshot of the music. Also on the outer rim on the site were plentiful food stalls with a wide variety of dishes at very good competitive prices.
On with the music at midday it was nice to relax and watch the music from afar at the top on the hill looking down onto the stage with gave the viewing an amphitheatre feeling.
---
Taking the blueprint from Northern soul, ska and the 80's Mod vibe, this was the Style Council with a lighted rocket up their jacksy. Impressive stuff.

---
Stone Foundation had the honour of waking us up and getting everyone in the groove. This Midland seven piece band played some cool psychedelic organ soulful rocking sounds. Taking the blueprint from Northern soul, ska and the 80's Mod vibe, this was the Style Council with a lighted rocket up their jacksy. Impressive stuff.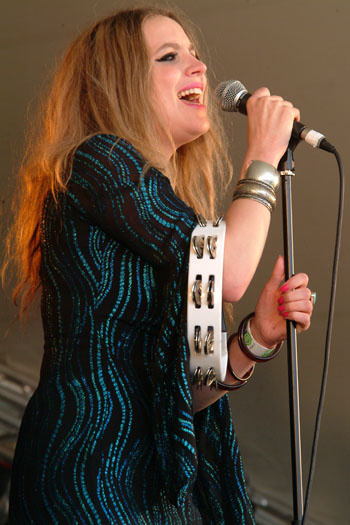 SAINT JUDE
It doesn't matter what festival they play but rising rockers Saint Jude win new fans over no matter what their favourite music genre is.
Their rock 'n soul was perfect for this early afternoon slot. Sounding a little rockier than when I've seen them recently Saint Jude had the confidence to perform some new numbers at the end of their set.
Singer Lynne Jackaman is not only pleasing to the eye, but we need to forget those Joplin/Franklin comparisons because in years to come critics will be comparing female singers to Jackaman, she's that good.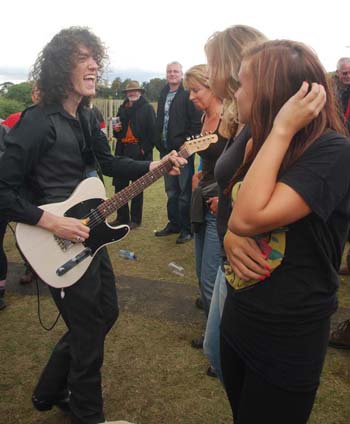 Photo: Tim Beckerley
Tim Beckerley writes
OLI BROWN
Oli astonished the Rhythm Festival when he first performed here a couple of years ago. He's way too young to be a bluesman of such dazzling ability with a vocal range that's so powerful he sometimes foregoes such irritating technicalities as a microphone by singing out to the crowd au natural. He's also annoyingly good looking and charming, much to the delight of his female fans.
In terms of a blues pedigree, this is the young fellow who, at the tender age of 22, has toured with Johnny Winter and jammed with John Mayall, Buddy Guy and Walter Trout. The latter remarked "Oli is my Hero". When you watch this guy, you can see why.
Oli played mostly his own material, forcefully strumming his lead as if picks have gone out of fashion, producing a crisp and altogether unique sound.
No-one except a sound engineer knows quite how he did it, but he descended the stage, lead unplugged and moved in and amongst the entire crowd playing an outstanding solo to admiring girls, air guitarists, smiling kids and dumbstruck reviewers.
He must have fitted some weird radio-mike-techno-gizmo but this piece of kit brought about musician rapport with an audience to a new level.
The lack of his potent cover of 'Black Betty' was disappointing but climaxing with his own 'Roxanne' (no, not that version) was the perfect end to a stimulating set.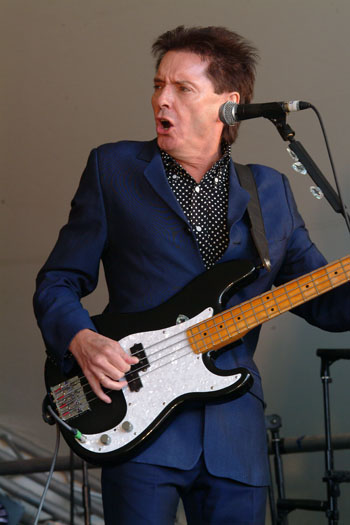 FROM THE JAM

From The Jam we got to see original Bruce Foxton play his stiff little fingers on that trademark sound on the bass. Weller never. Singer guitarist Russell Hastings must have every Jam record in his collection because he is the real deal playing with passion and not looking out of place at all. Forget the Modfather, this is the band with the sound playing all the Jam favourites with real angst.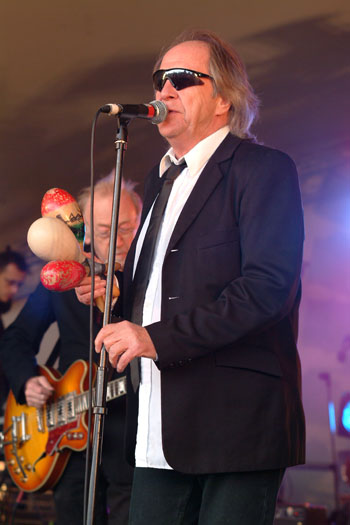 THE PRETTY THINGS
Once dubbed the uglier cousins of the Rolling Stones, Dartfords original bad boys The Pretty Things played some hard rocking British beat. Don't Bring Me Down got an early hearing before tracks from the classic S.F Sorrow and a great duo section from Phil May and Dick Taylor showcased the real talent of this unique band. A song that caused alot of controversy back in the 60's L.S.D is still good enough to mess with your mind even today.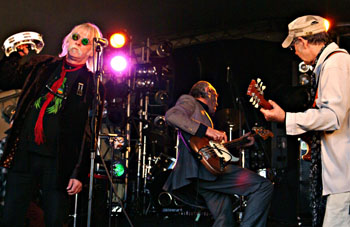 THE BLOCKHEADS
The Dury may be out for The Blockheads but that didn't prevent the band from playing a blinder. Derek Hussey is a larger than life character who puts forward his own personality on the vocals.
The band themselves still have plenty of that spit in their funky approach to their ska invested punk. Adding to the occasion was an aerobatic display from the aircraft next door but I didn't let that distract me from the classy musicians on stage who seem to be enjoying performing with each other more than ever before. Fans of all ages were dancing.
The Blockheads hit the Rhythm Fest with some serious stick. There were many reasons to be cheerful with this performance.
---
Today Reid was a car crash waiting to happen. In no rush, he waited until he had the right tuning on one of many guitars he had lined up. Each song had a messy start, then Terry Reid guided the songs into an atmospheric wonderland of sheer bliss...

---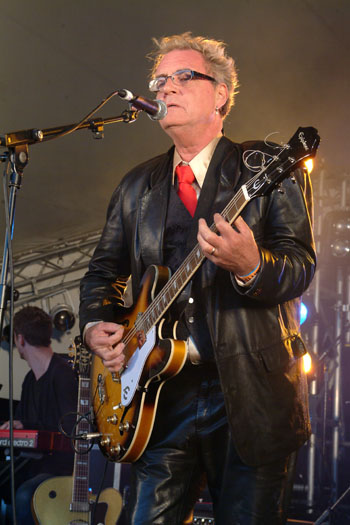 TERRY REID
Terry Reid is admired by many who talk about him in hushed tones. Today Reid was a car crash waiting to happen. In no rush, he waited until he had the right tuning on one of many guitars he had lined up. Each song had a messy start, then Terry Reid guided the songs into an atmospheric wonderland of sheer bliss like the Raging Storm and The Bend In The River.
There was no more than six songs in his hour set and there could've been plenty more were it not for his sometimes humorous ramblings between songs. As they say, always leave the fans hungry and they be back for more, oh yes!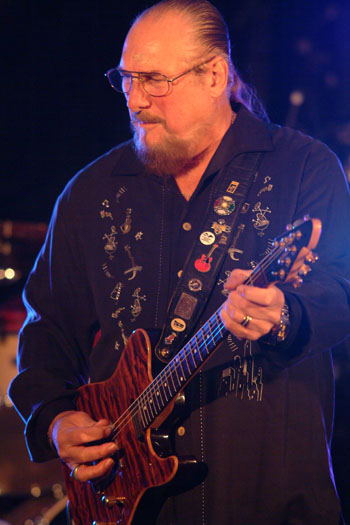 THE ANIMALS/ STEVE CROPPER
The Animals still feature drummer John Steel and organ grinder Mick Gallagher who was playing his second set of the day having played with The Blockheads earlier in the day. Pete Barton has has a big booming voice who delivered on such great tracks as It's My Life ,Don't Let Me Be Misunderstood and We've Gotta Get Out Of This Place.
The set took on a tangent when songwriter Steve Cropper was invited on stage to add some magical touches on the guitar.
With The Animals he performed songs he co-wrote for Wilson Pickett such as In The Midnight Hour and 634-5789 and the Otis Redding classic (Sittin' On) The Dock Of The Bay with some great stories behind the songs from Cropper. It was a honour and a privilege to witness these songs live by one of it's songwriters. A magical moment.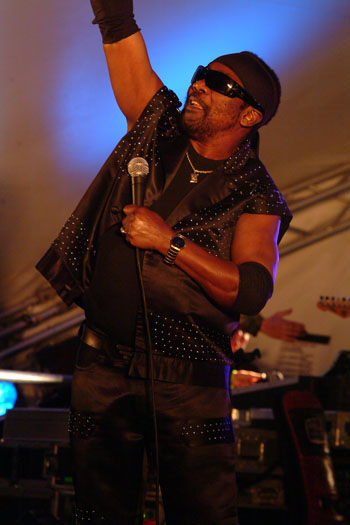 TOOTS & THE MAYTALS
Jamaican reggae legends Toots & The Maytals were Sunday's headliners. The first two numbers were sung by his daughter who reminded me of a young PP Arnold. The Maytals soon had everyone feeling the love and even Terry Reid was seen happily dancing away. However I only stuck around for a few numbers as I needed to head off for my first visit all weekend to the Le Mesurier Stage.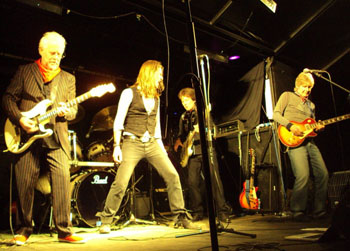 Photo: Heather Bevan-Hunt
Apart From Rod are exactly what it says on the tin. Featuring Rod Stewart's original touring band members, guitarists Jim Cregan and Gary Grainger with Robin Le Mesurier. All were in old big nose's band between 1976-94.
Taking on vocal duties was unknown young strapping lad Jimmy Stapley (A star in the making) and who was that hiding behind the drumkit? None other than Harry H James of Thunder.
All the classics you expected to hear were performed with aplomb with that earthy gritty sound you heard on the originals. Maggie May and Stay With Me ended a rousing set and made it all worthwhile for those who ventured over to this corner of the site late at night. Don't be too surprised if this band are invited back next year to play on the main stage. Just remember to pack your leopard print trousers.
With the festival over a great time was had by all, Buckers and I met up with Marchant & Co and danced the night away in the hall to the sounds of Atomic Rooster, Strawbs and Led Zeppelin. Us pro's were the last to leave the arena at 3am in the morning.
My first visit to the Rhythm Festival, by no means my last. See ya next year campers.

Review and interviews by Mark Taylor
Photos by Noel 'Buckers' Buckley
Additional reporting and photos: Tim Beckerley
Additional photos: Simon Godley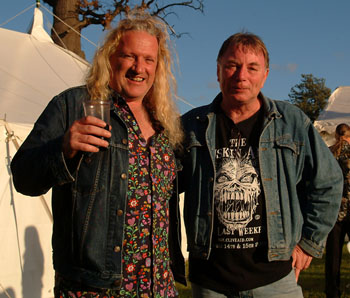 GRTR!'s Mark Taylor and Buckers, getting into the festival spirit
---