Just witnessed your best live gig?.. send us a review!
DOWNLOAD, Donington Park 10-12 June 2011
Review and photos by Andy Nathan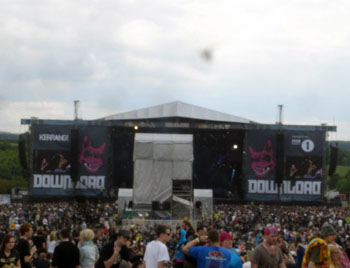 Remember the halcyon days of Monsters of Rock when the metal headís own festival was a one day event, featuring between five and seven bands, and tough luck if they werenít your favourites?
Since the Download festival brought music back to the legendary Castle Donington site in 2003, the event has grown to be a metal equivalent of Reading/Leeds or V Festival, with over 100 bands over three days on two main open air stages, two large tented stages and a small acoustic stage. OK, that means lots of infuriating clashes and parsimonious set times, but that is a small price to pay for the sheer choice of acts offered.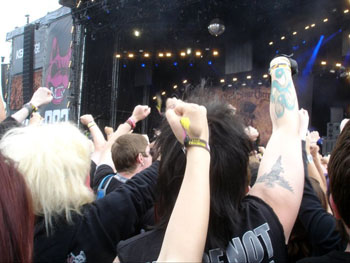 The early years of Download were designed to appeal to the modern day Kerrang! or Metal Hammer reader but over the past four years promoter Andy Copping has broadened the range to reflect a wider variety of classic bands, and indeed this year the line up arguably includes more of the greats than High Voltage.
This meant that while others got off on the aggressive sounds of the likes of System of a Down, Bullet for My Valentine, Avenged Sevenfold and Linkin Park, there was plenty to appeal to my more traditional tastes.
DAY 1 Friday 10 June (Def Leppard, The Darkness, Alter Bridge, Thin Lizzy, Black Stone Cherry)
Arriving mid afternoon with many of the 70,000 strong crowd already in place, I caught the tail end of Duff McKaganís Loaded, concluding with his version of Its So Easy, but the first band I properly saw were rising Kentucky rockers Black Stone Cherry.
They have changed a little since I last saw them, and not only singer Chris Robertsonís appearance with a tea cosy hat over shorter hair. They seemed to have calmed their hyperactive stage set and play at a slightly slower, though no less heavy, pace.
The new album 'Between the Devil and the Deep Blue Sea' featured heavily and the likes of 'White Trash Millionaire' and 'Blame it on the Boom Boom' could follow the likes of Nickelback and Kid Rock into mainstream airplay.
However the old songs were not forgotten with the likes of 'Blind Man' and 'Rain Wizard', while people behind me took Chrisí urging to have the best five minutes of their lives to set closer 'Lonely Train' a bit too far, forming a massive moshing circle.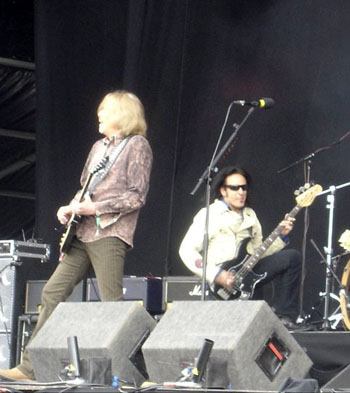 I was curious to how Thin Lizzy might go down, but the answer was very well and indeed how could they go wrong with a rapid fire opening quartet of 'Are You Ready', 'Waiting for an Alibi', 'Jailbreak' and 'Donít Believe a Word'?
However it was significant that the predominantly young audience around me reserved their biggest cheers for 'Whiskey in the Jar', probably due to the Metallica connection, along with 'The Boys are Back in Town' which featured a guest return from Vivian Campbell to make for a triple lead guitar attack.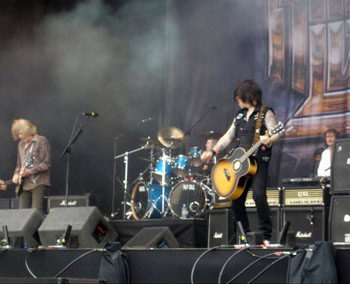 I was initially sceptical about new guitarist Richard Fortus but he can certainly play and was not lacking in self-confidence. 'Cowboy Song', 'Rosalie' and 'Black Rose', with those fantastic Celtic themed twin lead harmonies were other highlights of an all too short set that I look forward to them reprising at High Voltage.
Alter Bridge are one of those bands that can successfully marry the classic approach with a more aggressive, contemporary heavy sound, and produced the latest in a series of fine displays at Download.
Myles Kennedy has a magnetic voice, aggressive but passionate, while guitarist Mark Tremonti cuts through their thick wall of sound with searing, high pitched solos, but makes it look so effortless.
I found their latest AB III offering lacking in memorable songs, yet the likes of 'Ghost of Days Gone By' and 'Isolation' nestled comfortably and catchily in the set with fan favourites such as 'Find the Real', 'Buried Alive' and 'Come Alive', while, after some guitar jamming between Myles and Mark, 'Rise Today' - with a great solo and stirring 'Gonna rise today and change the world' lyric- showed them at their best. The good news of a joint winter tour with Black Stone Cherry was also announced.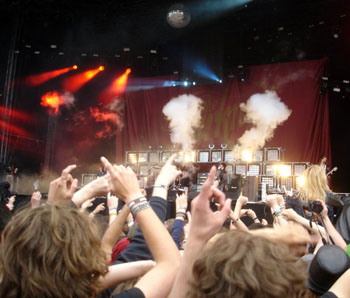 The Darkness divided opinion first time around, and dissolved looking faintly ridiculous, so I feared that their comeback in the second slot might be received badly. But it proved a triumphant return for the over the top Lowestoft rockers, as the set got off to a flying start with 'Black Shuck', 'Growing On Me' and 'Get Your Hands Off My Woman' as, where I was, the pogoing got more frenetic with each song.
'One Way Ticket to Hell and Back', one of only two picks from their neglected second album, is simply a great rock n roll anthem while 'Love is Only a Feeling' got the whole crowd swaying.
Though his bizarre handlebar moustache gave him the air of a seventies porn star, Justin Hawkins this time reigned in his self-indulgent eccentricity and the set was the better for it.
The pace could be questioned as they had used up most of their aces early on, but 'Giving Up' and, of course, 'I Believe in a Thing Called Love' had men and women alike exercising their falsettos as they sang and jumped around.
A lengthy 'Love on the Rocks With No Ice' was devoid of some of the props of the past, but there was plenty of pyro and I was taken back several years and given a reminder just why I found them such fun as they shook up a moribund scene.
They were of course the classic cautionary tale of a band who had too much too soon, so it will be interesting to see where their career goes and whether they can forge a credible path second time around.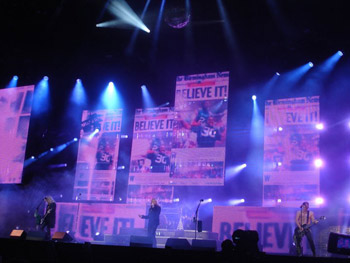 Sadly some of the momentum had been lost when the rain came down, and Def Leppard not only took the stage 15 minutes late but opened with the new and rather average song 'Undefeated'.
They made up lost ground with 'Action' and 'Lets Get Rocked' getting the crowd singing along, while as a long-time pre-Hysteria fan, I was delighted to hear 'Let It Go' (admittedly deprived of its original crunch) and 'Fooliní'. As ever, few bands can match the professionalism of a Lep show with full use made of the stage and well presented backdrops and light shows.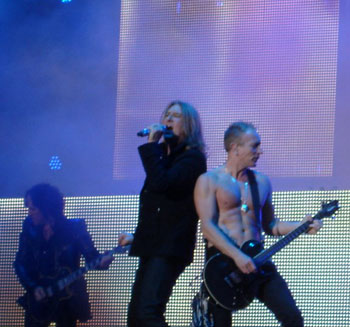 After an exquisitely silky smooth 'Love Bites', the set took on a very familiar ring to recent tours with a Rick Savage bass solo leading to the equally dull 'Rock On' which is surely ripe for dropping from the set, then the band donning acoustic guitars as Joe Elliott led a singalong through 'Two Steps Behind' and 'Bringin on the Heartbreak'.
When the electric guitars came in halfway through, it also seemed the power had been cranked up from the start of the gig, and after the lively instrumental 'Switch 625', it was as usual hits all the way from here on in. Indeed, a sprawling 'Rocket' and 'Armageddon It' segueing into 'Animal'. I was surprised though from my place reasonably near the front how relatively muted the crowd response was.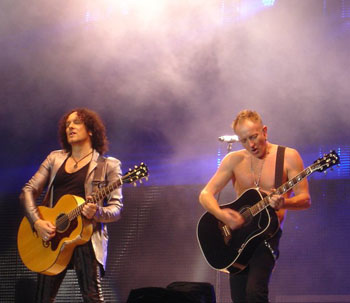 'Photograph' lifted the mood, with a couple of great solos from the ever superb Phil Collen, though making Joe Elliott strain to hit the high ranges of the original may have been what Americaís Founding Fathers had in mind when they banned Ďcruel and unusual punishmentsí.
Nevertheless he was still able to lead the crowd in a mass singalong of 'Pour Some Sugar on Me', before paying tribute to Rick Allen, who made his comeback here in 1986 after his arm amputation, which inevitably led into him introducing another singalong-a-Lep in 'Rock of Ages'.
With their best known songs already played, I was curious what the encores would be and Keith Weir of the Quireboys and Down and Outz was brought on to add keyboards to the ballad 'When Love and Hate Collide', a No 2 single yet too unfairly overlooked these days.
I didnít dare expect it, but Joe then said theyíd go back to 'On Through the Night' and they cranked out 'Wasted', with the classic riffs bolstered by some fiery, embellished solos from both Phil Collen and Vivian Campbell.
95% of the audience were probably puzzled, but I was delighted with the band for indulging my nostalgia for their headbanging NWOBHM days, leading me heading into the night a happy camper (or more accurately, hotelier).
DAY 2 Saturday 11 June (Alice Cooper, Twisted Sister, Cheap Trick, Mr Big, Dio Disciples, Dan Reed, Rock Sugar, Skin, Houston)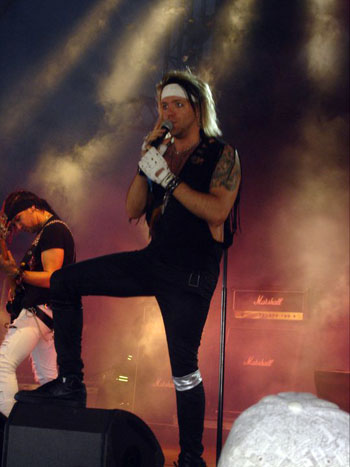 Failing to make it for revived early 80ís metallers The Rods, I arrived for the second day just as Houston had started. With FM and Journey quite guitar heavy live acts, I suspect they were the most AOR band Download has ever seen.
Vocalist Hank Erix is still a bit hit and miss but they improve every time I see them and the likes of 'Chasing the Dream', 'Under Your Skin' and 'Pride' were melodic rock bliss.
A trip then followed to the acoustic stage where Skin were continuing the most drawn out farewell since Frank Sinatra. Well, half of them as vocal powerhouse Nev MacDonald and Myke Gray were joined by two stand ins including Mykeís ex Jagged Edge partner Matt Alfonzetti on bass.
A five song set, with three Ďnewí songs including the gospel-like 'Redemption', was encouragingly rocky despite the unplugged format and indeed I found myself having to resist the urge to play air guitar during Mykeís acoustic solo during 'Look but Donít Touch'.
From then on, my entire day was spent at the second stage, slightly tucked away from the main arena. With a smaller, more intimate area, a better mix of fans of all ages, and a slight slope making for better viewing and photography, it was a very enjoyable experience, and the music did justice to this vibe.
Judging by the size of crowd, Rock Sugar must have won many new fans when they played last year, with their ingenious and entertaining mash ups of songs.
They opened with their best known, 'Donít Stop the Sandman', but saved the best for last as they switched between 'Bohemian Rhapsody', 'We Will Rock You' and 'Kickstart My Heart'.
Singer Jess Harnell defines the term larger than life and had the crowd in stitches by showing them how to impersonate Steve Perry, Ozzy and Axl Rose, but I personally regret the fact that they have come to prominence this way while their original band Loud and Clear failed to break through despite having quality original material.
Dan Reed was next up, with a full band, albeit one of the most folically challenged I have ever seen. Rather than hard rock, they played in a more laid back, almost Americana style. It was still highly listenable, while the Roy Bittan lookalike on keyboards seemed to be having a ball.
Dan played a number of new songs, and a stripped back, radically reworked take on 'Holy Diver', but it was 'Rainbow Child' that brought knowing smiles from the audience and he finished up with another Dan Reed network oldie, 'Get to You', with the funky musical interplay of Fahrenheit-era Toto.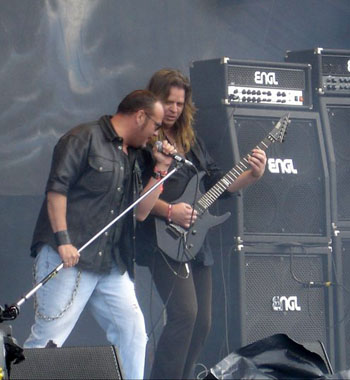 I was dubious about what to expect from Dio Disciples, featuring three ex members of the late great Ronnie Jamesí band in Craig Goldy, Simon Wright and Scott Warren, but enjoyed a great 25 minutes of homage to some of hard rockís finest moments.
ĎRipperí Owens perfectly captured the power and menace of the manís voice on 'Stand Up and Shout' and 'Holy Diver', before sharing the stage with Toby Jepson during 'Stargazer'.
The ex Little Angels man would not be the obvious choice to sing Dio songs, and his trademark yelp still crept in occasionally, but he was equally good as he led a singalong to 'Long Live Rock ín Roll', before they finished up with 'Heaven and Hell'. In my view, they did the little manís legacy more justice than Glenn Hughes and Jorn had done at last yearís High Voltage show.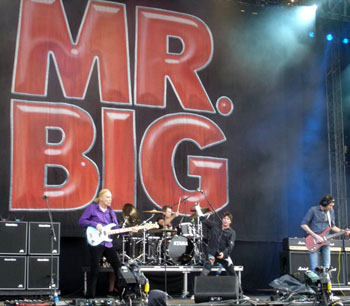 Another band I was a tad sceptical about was Mr Big, whose reunion show in 2009 at Shepherds Bush Empire set new standards in self-indulgence. Once again I was wrong as they crammed their best moments into a 40 minute set, getting off to a flying start with 'Daddy', 'Brother', 'Little Boy' and 'Green Tinted Sixties Mind', once newly-shorn singer Eric Martin had overcome some technical difficulties.
Their unique sound derives from the way virtuoso bassist Billy Sheehan and technically skilled guitarist Paul Gilbert trade lead lines, and this was shown to good effect on rockier numbers such as 'Merciless' and 'Colorado Bulldog', where the band were tighter than a duckís ass.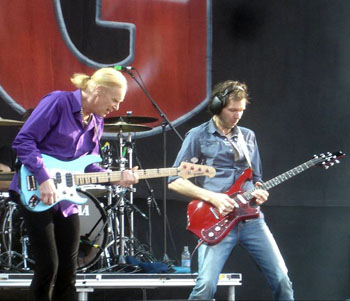 I was underwhelmed by their new album and yet the material came over well live, 'Undertow' being driven forward by some fine drumming from Pat Torpey and 'Around the World' featuring more great jamming between Billy and Paul.
When Paul donned an acoustic and Eric finished his band introductions by saying, Ďand Iím the one who wants...To Be With Youí, people at the front were swaying their arms, before the band showed their chops in more typical fashion by concluding a set with 'Addicted to that Rush'.
On this evidence the band are firing on all cylinders again and lovers of musical virtuosity, whether melodic rock fans or not, should check out their autumn tour.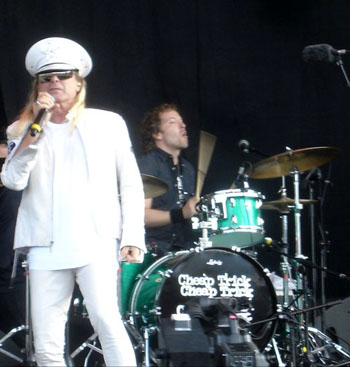 Cheap Trick were one band I was looking forward to, as rather than the constantly rotating setlists they play for the diehard fan, I expected that a 40 minute festival slot would force them to play a cavalcade of greatest hits.
However, bizarrely they opened with a 10 minute version of 'Gonna Raise Hell. Dream Police', 'I Want You to Want Me' and 'Surrender' all hit the sweet spot, with white clad singer Robin Zander in good voice while a pleasant surprise was their infectious cover of 'California Man'.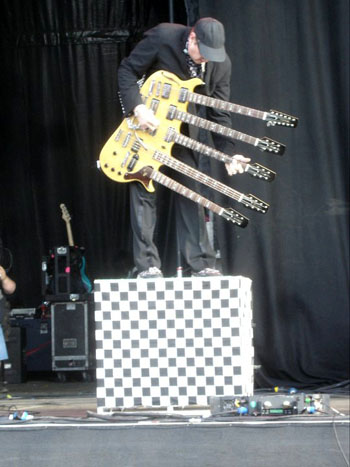 However at other times they seemed to drift, while guitarist Rick Nielsen, quirky as ever as he threw out plectrums and ascended a black and white checked podium to play a five necked guitar, seemed to spend too much time playing to the bandís guests who were in the wings. It all felt like a bit of a missed opportunity to win new fans.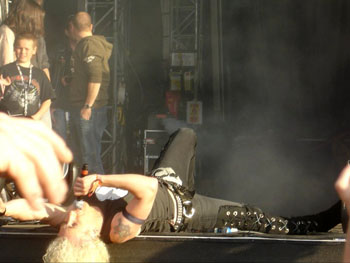 Twisted Sister only reform for around 15 shows a year, so it was a coup to book them, although when Dee Snider slagged off Live Nation from the stage he may have blown his chances of a return invite!
Since I last saw them a few years ago, they have now dispensed with the original make-up and costumes, and yet the key ingredients remain: Dee hyperactively whipping up the crowd, snot nosed anthems like 'The Kids are Back', and an underrated, uncompromising sound with the likes of 'Captain Howdy' and 'Burn in Hell' giving the Judas Priests of this world a run for their money.
'You Canít Stop Rock n Roll', with some great riffing, somehow sounds a better and more appropriate anthem than it did back in 1983, while after guitarist Jay Jay French had a dig at Simon Cowell (a soft target, but a highly appropriate one), 'Weíre Not Gonna Take It', 'I am Iím Me' (the song that changed my life when I saw it on Top of the Pops on my 16th birthday!) and 'I Wanna Rock' - or as Dee got the crowd to sing, 'I wanna f***!)' had the whole of the front area pogoing and punching the air.
Once again they proved they are still a fantastic live band and the only let down was the set was a ridiculously short 50 minutes.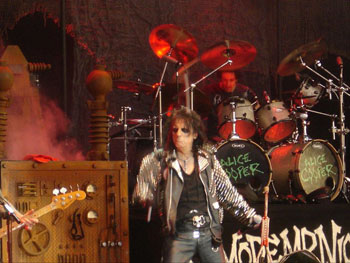 Of course the doyen of the theatrical shock rock as practised by the likes of TS is Alice Cooper, so it was fitting that he headlined the second set. It may be that I was on a high from the preceding bands, but this was perhaps the most enjoyable of the many shows of his I have seen.
The sound was crisp and clear, and his band, featuring three lead guitarists, the most authentic at recapturing the musical subtleties of the original Alice Cooper band.
Perhaps this was not surprising when I later discovered the older, more static guitarist was the legendary Steve Hunter whose association goes way back.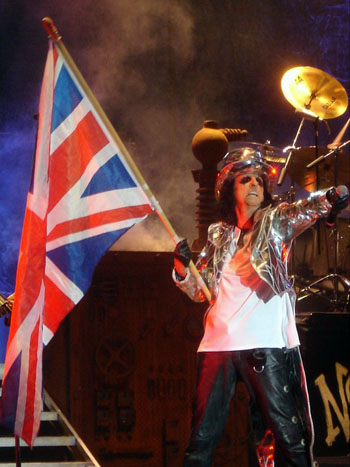 In addition, he shook up a somewhat stagnant set list, opening with 'Black Widow' and 'Brutal Planet', and adding rarely used numbers such as 'Hey Stoopid' (judging by the crowd reaction, that will stay in the set) and the new wave-inspired 'Clones'.
The classics were still mostly there though, from a trio of 'Iím Eighteen', 'No More Mr Nice Guy' and 'Billion Dollar Babies' which reminded you what a lasting impact his songs have had, to 'Halo of Flies' with some great band musicianship.
A new song, 'Bite Your Face Off' - helpfully scrawled on Aliceís shirt to avoid his character having to talk during the show - was also impressive. While the full array of props was being saved for his winter Halloween tour, we still got the snake, the doll and the guillotine, and best of all an enormous Frankenstein was fed, metaphorically speaking, on stage.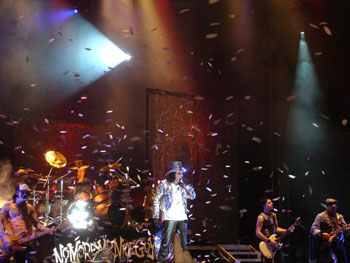 'Poison' resulted in a mass eruption of pogoing and singing along, and when Alice returned from the Ďdeadí to sing 'Schools Out', the party atmosphere reached fever pitch as giant balls were cast out into the crowd, and Alice even did a ĎRock Sugarí by interpolating 'Another Brick in the Wall' into the song. After a solitary encore of 'Elected', a 75 minute set was over all too soon, closing a memorable few hours of one great performance after another.
David Wilson writes:
This was a spur of the moment trip to Donington only organised a couple of weeks before the event based on the premise that you only live once and to hell with the expense.
Having not been to a festival for a while we ( myself, my wife and my son ) thought it better to break ourselves back in easily and just do the one day, the Saturday line up won hands down on paper and proved to be an inspired choice.
First up we headed to the Pepsi Max stage for The Rods and Houston both of who put on a good, short set. Houston had driven 20 hours to get to Donington from a Swedish festival the previous day, but showed no signs of fatigue whilst The Rods showed that you canít beat old school rock played with passion which was to be a theme for the day. After this we headed to the second stage where we planned to spend the rest of the day as it was an old rockers dream line up.
We started though with a newer group with old connections, Rise to Remain, fronted by Bruce Dickinson of Iron Maidenís son Austin. They played well churning out melodic nu metal with a passion that went down well with gathering crowd.
Next up were BossHoss whoís country tinged rock went well with the blazing sunshine. They had the crowd dancing and kicking up dust throughout the set. Rock Sugar followed and kept the crowd on its toes with their wild mash up of songs blending Metallica with Journey and Queen with Motley Crue etc. They had their tongues firmly in their cheeks and went down a storm.
The lead singers impressions of Axl Rose and Ozzy had to be heard! Things went down hill temporarily after this with Dan Reed. He played well enough but his style of laid back rock was not what was needed after Rock Sugar and was greeted with polite applause at best. The perfect time for a class chickpea curry!
Clutch were up next and upped the pace again with a solid set and judging by the T-shirt count, second only to Avenged Sevenfold, they had a lot of friends there to cheer them on.
By now things were hotting up nicely both band wise and weather wise and next up were Dio Disciples, the band comprising of ex members of Dioís band and fronted by Tim Ripper Owens and Toby Jepson. They played Dio classics from all eras of his career and did the great man justice. They are touring soon with a proportion of the ticket price going to the cancer trust set up in Ronnieís memory, catch them if you can.
The reformed Mr Big hit the stage next and played a blinder. The guys were on top form apart from Eric Martin sporting a cast on his arm but in good voice. The playing, as always, was spot on. Billy Sheehan and Paul Gilbert were on fire, trading licks like there was no tomorrow and proving that Mr Big are back with a bang.
It would be a tough act following Mr Big for most bands, but Cheap Trick are a class apart. They took to the stage with little fuss and let the music do the talking. Robin Zander was dressed head to toe in a white police outfit whilst Rick Nielson wandered the stage playing up to the crowd with a wide grin fixed firmly in place. All the classics were there and the only complaint was that the set was over too soon.
Look under Ďultimate festival bandí in the dictionary and you will find the name Twisted Sister. They are now only playing festivals and as JJ French said they only work 14 days a year. They have honed their delivery to pack the maximum into the allotted 50 minute slot and had the crowd in the palm of their hand from the opening chords of What You Donít Know. Dee Snider is the fast talking, wise cracking ring master and the energy, drive and delivery of the whole band make this a set to remember. Absolute class, they deserve a main stage slot and a longer set next time.
Finally we had the master of shock rock himself, Mr Alice Cooper. Now in his 120th year (possibly) he can still produce a show that is worthy of his headline slot.
Following Twisted Sister after their red hot set would be daunting for most, but Alice just upped the stakes. Opening with Black Widow and continuing with a mostly greatest hits set with his usual visual extravaganza he went down a storm. He did one new number which he announced via the back of his jacket and then the back of his shirt, you have got to love the man ! His current band are amazing as ably demonstrated on an extended Halo of Flies.
All too soon the guillotine was out, his head was off and Schools Out and Elected heralded the end to a perfect day.
So the sun shone, the bands were top class and chips and gravy in hand, we wandered back to the car vowing to do it all again next year but for the whole weekend next time, can I order the sunshine now ??

DAY 3 - Sunday 12 June (Red White and Blues, Gaslight Anthem, My Darkest Days, Bowling for Soup)
The final day was lighter on traditional classic rock, but there were still several bands that held an interest for me. However, the rain tipped down from quite early in the day and it was not a good sign to arrive in the car park at lunchtime to see bedraggled campers leaving in their droves.
My first interest, Bowling for Soup, came on during a rare break in the rain and produced their usual entertaining mix of pop punk and comedy, doing unspeakable things to their giant inflated sheep and producing lots of witty banter. This did rather break up their set but I had to sing along to the hilarious lyrics of 1985, and their big hit 'Girl all the Bad Guys Want' got the crowd going.
I then headed to one of the tents to catch hotly tipped young Canadians My Darkest Days. They had been variously described by friends as the new Nickelback or Motley Crue, and yet, especially with keyboards to the fore, I detected a love of 80ís goth and synth pop influences seeping into their modern rock, much like The Rasmus a few years ago.
Many of the songs were very listenable although their cover of Duran Duranís 'Come Undone' was not quite the radical rocking up of the original they liked to pretend, while they closed with 'Porn Star Dancing', their US hit which called to mind bands like Hinder. Though I liked them musically, I did cringe at their dumb attempts to act the edgy, foul mouthed, dangerous rock stars, which made their mentor Chad Kroger look like Stephen Fry by comparison.
The rain was now belting down when I ventured out to see The Gaslight Anthem. I have become a fan of their punky, but literate and melodic songs, and enjoyed the likes of the '59 Sound', 'Queen of Lower Chelsea' and 'Great Expectations', while closer 'The Back Seat' was a particular example of the Springsteen influences that pepper their sound.
Slightly out of place on the bill, singer Brian Fallon did curry favour by playing a couple of Metallica riffs. However their stage act is not the most visually striking, and with the songs merging into another after a while, a cold, wet and miserable field was not the best place to enjoy them.
Joining a few diehard Skin fans at the acoustic stage, I witnessed the first performance by a new outfit Red, White and Blues which brings together Myke Gray and Matt Alfonzetti with Thunderís Chris Childs and Harry James though sadly the latter two could not be present- with Nev MacDonald among the stand ins.
This was not the best environment in which to judge their potential, but five new songs all showed potential- the passionate 'Shame On You' in particular - and showed off Mattís rich voice.
The site was now considerably emptier as people gave up the unequal struggle against the elements. My friends and I were hanging on for our fix of Scandinavian melodic rock with H.E.A.T. in one of the tents, but soaking wet and with a couple of hours still to wait, suddenly the drive home in a warm car became more appealing.
You canít trust the English weathe r- but it should not detract from three excellent days of rocking out to a huge variety of bands.

Review and photos by Andy Nathan
---