URIAH HEEP On The Rebound: A Very 'Eavy 40th Anniversary Collection Sanctuary/Universal (2010)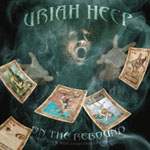 Uriah Heep, like fellow long standing rockers Nazareth, have had their fare share of compilations through the years, many of which contain near enough the same track listing or feature poor live versions of classics where the label in question doesn't have the rights to the originals. But this latest offering is possibly the best Uriah Heep compilation to date.
Not only does sole original member Mick Box have a hand in selection and adds his own intro on the sleeve notes (with Dave Ling providing the bulk of the sleeve notes) but you get at least one song of each of the band's studio albums to date.
For the fans who will doubtless have all these songs already there is an unreleased song 'You Are The Only One' which was recorded at the time of their last album, 'Wake The Sleeper'.
This is the band's more rockier side represented across the two discs and the songs are mixed together so one minute its classic Byron led Heep with 'The Wizard' and then you're into the Bernie Shaw years with 'Cry Freedom'.
For me its great to see so many Pete Goalby era tunes including 'Rockarama', 'The Other Side Of Midnight' (featuring one of Mick Box's best riffs) and 'Weekend Warriors'. With the emphasis on the rock classics like 'July Morning' are left off but instead you get lesser known songs like 'The Hnaging Tree' and 'It Ain't Easy' from the 'Conquest' album (mind you I'd have gone for 'Carry On'!).
As a starting point for Uriah Heep or to requaint yourself with one the best rock bands out there is compilation hits the spot.
*****
Review by Jason Ritchie
---
| | |
| --- | --- |
| | Print this page in printer-friendly format |
| | Tell a friend about this page |
***** Out of this world | **** Pretty damn fine |
*** OK, approach with caution unless you are a fan |
** Instant bargain bin fodder | * Ugly. Just ugly
get ready to rock is a division of hotdigitsnewmedia group