TOMMY CASTRO Hard Believer Alligator ALCD4931 (2010)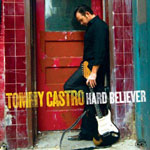 Tommy Castro has won so many awards lately and there's such a strong buzz going around his band that this album is in danger of being trampled underfoot. Happily, no such worries afflict a marvellous album full of great songs, stellar band performances, all topped by the magnificent soul-blues vocals and incisive guitar of San Francisco's Tommy Castro.
'Hard Believer' is that rare thing, an essential live band successfully transferring its spark into a studio stetting. The result is a soulful album full of deep grooves, some emotive singing and inspired playing, in fact pretty everything you get at Tommy Castro gig. And while the stylistic parallels with Delbert McLinton have already been well made, there's no getting away from Tommy's effortless singing, the cool arrangements and the kick ass horns. And oh, did I mention Tommy's' majestic guitar playing, full of big toned, luscious notes, crammed full of feel and blues intent?
'Hard Believer' is the kind of soulful blues-rock crossover album that found popularity in the UK in the early 90's via a coterie of Austin based bands. But Tommy's a one off from San Francisco, who offers a melange of Memphis soul allied with subtly crafted rocking blues with the emphasis on magical grooves and tight arrangements that always leave enough room for the band to break on through with real sparkle.
Producer John Porter has to take a lot of the credit, presumably for helping to source some great material that spotlights the band in the best possible way and for some well thought-out sequencing. There's the late Stephen Burton's 'It is What It Is', the Memphis drenched 'Ninety-Nine And One Half', a reverential but funked up version of Dylan's 'Gotta Serve Somebody' and best of all a truly beautiful reading of Jeff Turmes' 'The Trouble With Soul'on which Tommy delivers his best vocal on the album.
Then there's the question of Tommy's own material, most of which is a successful carry over from the impressive 'Soul Shaker' album. The opening 'Definition of Insanity' rides along on the back of choogling rhythm section, the first of several impressive crisp horn arrangements and all but slips into a Latino groove as Tommy adds a heavy duty lead solo with a Santana feel.
In contrast on the title track he leans into his soulful roots, while on the Rick Estrin co-write 'Backup Plan' he digs deep into the blues, his husky vocals gliding over a mighty horn arrangement while producer Porter leaps into the fray with some imposing slide guitar on the darkly humorous 'Trimmin' Fat'. And as if to round of all the various component parts of the prefect Rhythm & Blues review, TC and the band throw off the shackles and rock out on 'Make It Back to Memphis'. The horns pump, as Keith Crossan adds an earthy baritone and keyboard player Tony Head tinkles the ivories while Tommy delivers the perfect vocal.
All 12 tracks are infused with a rare sonic quality, with each arrangement bursting with energy. It's also worth noting that the horns too often relegated to the back of the mix on blues records, burst out of the speakers both individually and collectively. Both Keith Crossan on saxes and Tom Poole on trumpet are essential components of a band that joyously romp through the album from beginning to end. 'Hard Believer' is that rare album, a real band effort with a stellar singer who doubles on sumptuous guitar.
For the record, Tommy scooped 'Band of the Year', 'Guitarist of the Year', 'Entertainer of the Year' and 'Album of the Year'. 'Hard Believer' embodies all those elements and is nothing short of the best blues party in town!
*****
Review by Pete Feenstra
---