THIS IS BLUES Volumes 3/4 Eagle Records EAMCD419/420 (2010)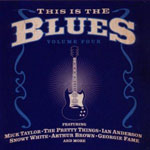 Both 'This is the Blues Vol 3 and 4' may appear to be catch all compilations, but they are presented as being part of 'an ongoing series that aims to bring together some of the finest blues, jazz and rock guitarists and singers performing classic blues tracks from across the years ... at a very competitive price' Phew! And there was me thinking they were both thematically researched if not chronologically sequenced blues compilations.
Among the many pretensions of this project is the claim by John Swenson that 'meditative blues dominates the selections' on Volume 3 (Eagle EAMCD419). Well if by that he means deep and moving music which he later defines as 'dark and contemplative' then he's listening to a different album from me.
Both CD's prominently feature material from Peter Green and a handful of John Lee Hooker songs. The Peter Green connection emanates from an abortive all star 'Tribute to Peter Green' compilation in the mid 90's and the subsequent 1997 'Knights of the Round Table' compilation.
Some of the material still sounds fresh and innovative as on 'Volume 4' while others are best forgotten. The John Lee Hooker connection is less obvious and certainly nowhere near as impressive.
Peter wrote some outstanding blues and he sang them as he felt them, but for much of 'Volume 3' there's plenty of collective technical proficiency but not emotional warmth to make a true connection with the blues.
And in that respect 'Volume 3' promises more than it delivers. Apart from the curious omission of an easy to read track listing on the back cover, there are several performances that are at best passable, but too often sound like rock musicians in search of material.
Perhaps the biggest disappointment is the woeful track by Peter Green himself on Hooker's opening 'Crawling King Snake'. Apart from the harp line, the track lacks Hooker's warmth, his sense of danger and close to the mic intimacy that he made all his own.
Foghat then demonstrate how blues morphed in to stadium plod on 'If You Be My Baby'. Former Sunset Heights virtuoso guitarist Vince Converse adds psychedelic squalls over some solid backing from Ten Years After members on Hooker's 'Bad Like Jesse James', but the mix is horribly flat.
Far better is Savoy Brown's take on 'Little Red Rooster' with great vocals from Nathaniel Peterson to match Kim Simmonds peerless playing.
And while the roll call of players from Gary Brooker through to Gary Moore and Rory Gallagher is impressive, only Brooker lives up to his name with some splendid piano work and husky vocals.
For the rest, Mick Clarke and Lou Martin do actually lean into their blues on a fine duo coupling and while Clem Clempson adds fluid guitar lines he could have done with someone like Chris Farlowe to sing the raucous 'I've Got New for You'.
There's some measured cool and sustain from Swedish guitarist Clas Yngstrom on Peter Green's 'The Supernatural' - though it doesn't develop much - and technical brilliance from Larry Mitchell on the instrumental 'Fleetwood Mac', while Jess Roden reminds us all what a great white boy soul singer he is on Peter Green's 'Merry Go Round'.
But there's too much that sounds passable rather than inspired, look no further than Ken Hensley's 'Hellhound on my Trail' which is a truly lamentable attempt at the blues. ***
Happily, Volume 4 (Eagle Records EAMCD 420) is much better. It always helps when you get off to a good start and Mick Taylor's sumptuous slide and world weary vocals are perfect on JLH's 'This Is Hip' There's a better flow to the album as a whole, as evidenced by the garage rock bluster of The Pretty Things - all Phil May drama and Dick Taylor's spiralling 60's guitar - which is juxtaposed by Snowy White's dreamy 'Looking For Somebody', a track that perfectly evokes Peter Green.
Gary Brooker offers another splendid vocal on JLH's 'Baby Lee', a song on which he perfectly nuances the spacious dynamic as Andy Fairweather Low adds the kind of restrained elegance that Ian Anderson revisits on his flute led reading of 'Man of The World'.
The strength of 'Volume 4' is that the respective artists bring something of themselves to bear on the material. But not everything works, as Arthur Brown scores a near miss, Ray Gomez offers workman like grit without inspiration, and Suzanne Sterling's version of Robert Hunter's 'The Business' is simply a bewildering choice.
On the upside Tom Topham and Jim McCarty bring the project back on track with a meandering but beautifully played languid blues while the startling vocal range of Kim Lembo is a real find. Georgie Fame is a cut above the rest, Miller Anderson adds restraint and good taste and Billy Sheehan rocks out at the end.
You can't really argue with a mid price series like this, but if you had to choose between the two, 'Volume 4' contains the better performances on two albums that are pleasant but certainly not essential compilations. ****
Review by Pete Feenstra
---
| | |
| --- | --- |
| | Print this page in printer-friendly format |
| | Tell a friend about this page |