THEA GILMORE Murphy's Heart (2010)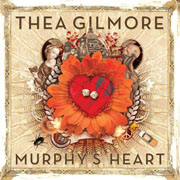 You can't help be impressed by Thea Gilmore's creativity levels. Being a 'Mum' certainly hasn't slowed her down any, and although it may have been two years since her last album - 2008's Liejacker, in the intervening period we've had Thea's 'alternative' Christmas album Strange Communion - an excellent and worthy addition to her canon of work that can be enjoyed on any of the 365 years in the year.
It can't be easy being so prolific. Murphy's Heart is Thea's 10th studio album. That's the sort of milestone that many artists don't manage in a career, never mind by the time you reach 30.
The quality control on Thea's output has always been set outlandishly high though and Murphy's Heart is no exception. In totality, it's perhaps a less commercial offering than some of her earlier output, but all the recognisable Gilmore song writing hallmarks are present and correct - intensely personal and socially aware, largely acoustic based songs - delivered with Thea's instantly recognisable vocals and insightful lyrics.
The opening single You're The Radio is a bright and breezy piece of radio friendly writing with some wonderful metaphors for the counterparts in a blossoming love affair - I particularly liked the reference to 'here's to sparks and here's to gasoline'. But elsewhere Murphy's Heart explores the darker aspects such everyday matters as lust, infidelity, sex and domestic violence - the edgy Not Alone, Teach Me To Be Bad, the piano led How Love Gets, and the pain of sacrificing a soul mate discovered only after you've committed to another (Automatic Blue).
The more mournful tracks are supplemented by brass and strings, and even a little ragtime gets thrown into the mix on the jaunty Jazz Hands. But in essence you suspect that, while she's turned down all the major labels, and critical acclaim meets her every turn, Murphy's Heart may still be just beyond the reach of the fickle public who wallow in the shallowness of Britain's Got Talent and the X Factor.
Meanwhile for those of a more discerning musical persuasion (and Thea can count The Boss (Springsteen, not God), Joan Baez and Martha Wainwright amongst her fans), Murphy's Heart is yet another first-rate album from Britain's best kept secret singer song writer. Watch out for her on tour later this year.
****
Review by Pete Whalley

---
| | |
| --- | --- |
| | Print this page in printer-friendly format |
| | Tell a friend about this page |