Zoom (Click large image to cancel)

Luke is not a stranger to these shores - thankfully - and this is the second time in a year or so that he has trod the Robin 2 boards, but there won't be many times that he comes back with an album as good as 'All's Well That Ends Well'.
This is one of my favourite albums of the year but - just my luck - my favourite track ('Darkness In My World') played here as a dramatic opener was a disappointment and as damp as the night air outside.
This was due to a very poor sound mix which had Luke's guitar buried. It's a pity because it was arguably one of the better rock tracks on show this evening and the final denouement of this song is a highlight of the album, giving Lukather a real chance to shine and the audience the opportunity for unadulterated wig-out.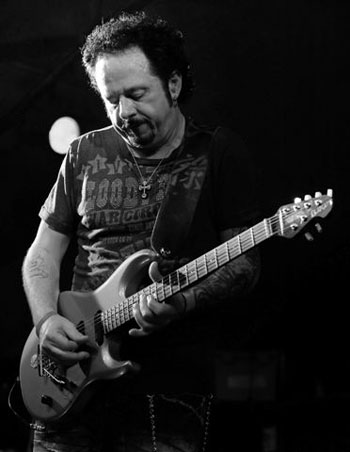 Perhaps the moral here is if there is any doubt with the mix, leave one of your best shots until last when hopefully everything's sorted. But I have to say, the guitar mix was poor in general and - bizarrely - at times aural precedence seemed to be given to Steve Weingart's keys.
This gig demonstrated Luke's strengths and weaknesses - and notwithstanding any sound issues. A seasoned sessioner, he is now only just escaping from the formulaic behemoth that was Toto and there were only brief nods to that band in the acoustic 'Out Of Love' and 'The Road Goes On'.
Elsewhere his fusion colours were evident, never more so than on the surprise '68' a recent track on which he's collaborated with Lee Ritenour. And whilst Luke's penchant for Steely Dan is genuine (as evidenced in the choice of interlude music and 'On My Way Home' from the new album) it is pastiche rather than his own music.

Zoom (Click large image to cancel)

Luke supporters probably split between hardcore Toto fans (who might be disappointed), informed guitar nerds (who might be frustrated with that mix) and lovers of jazz fusion (who might be satiated). After a glorious mid-set 'Song For Jeff' (from 'Candyman') the gig gave way to some fusion flavours and lost momentum after a somewhat uneventful drum solo. Essentially Luke brought a bit of Montreux to the Midlands.
When Luke got back on track with the urgency of 'Can't Look Back' - another standout cut from the new album - it was really too late: it was the last song of the set.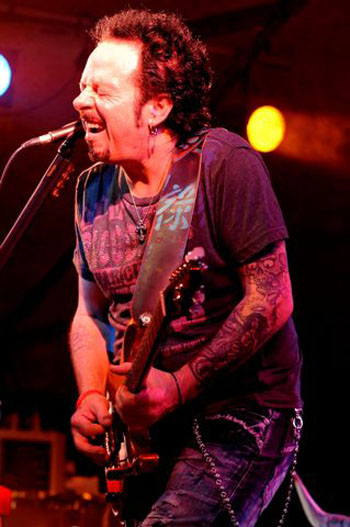 'All's Well That Ends Well' is arguably the best album of his solo career and easily the most consistent. The others can be patchy although the nuggets really shine - like 'Extinction Blues' from 1994's 'Candyman' and the title track from his last album 'Ever Changing Times' (both played tonight).
But in terms of his solo career, he really needs to build on the strength of his latest album which has an essentially straight-ahead rock/blues-orientated approach and a glorious momentum. And whilst we can read a lot in to the new song titles, it seems Luke has a new lease of life - 'Don't Say It's Over' (a glaring omission tonight although referenced in 'Song For Jeff') is a good enough descriptor for interesting times to come.

Set list
1. Darkness In My World 2. Always Be There for Me 3. Extinction Blues 4. On My Way Home 5. 68 6. Brodie's 7. Ever Changing Times 8. Song for Jeff 9. Tumescent 10. Out of Love 11. Tears of My Own Shame / Little Wing 12. Can't Look Back 13. Encore 1: Flash in the Pan Encore 2: The Road Goes On
Review by David Randall
Photos by Lee Millward
---
Album review and video interview
---