Just witnessed your best live gig?.. send us a review!
SAINT JUDE
Scala, King's Cross 20 August 2010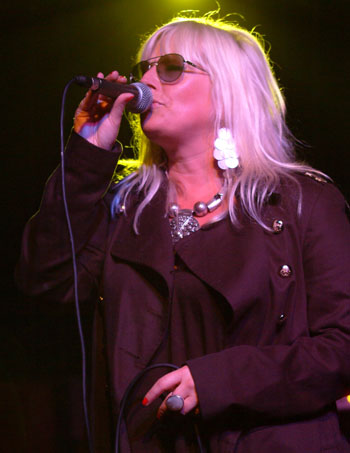 After witnessing Saint Jude earlier in the year at the 100 Club, I certainly wasn't going to miss this gig and 'ello, 'ello, 'ello, who do we have in support? None other than daughter of Ian, Miss Tracie Hunter.
A big pair of shades must run in the Hunter family, but Tracie Hunter dosen't need to wear them as she is only hiding her good looks. Hunter has a deep broody voice and the band played a more mellowed form of rock that was impressive enough.
Songs from the forthcoming 'Screaming Superego' should see Hunter being taken more seriously as an artist in her own right. A wise choice cover of Hazel O'Connor's 'Will You' gave the song a rich rock vein of life.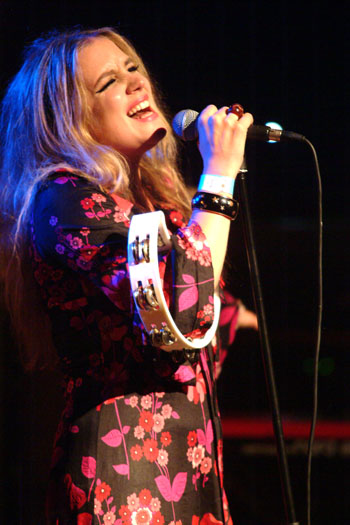 Saint Jude are something special. This is the band that the Black Crowes really wanted to be, there is nothing fake about Saint Jude.
A rootsy gutsy blend of seventies rock 'n roll taking in influences from Humble Pie, The Faces and the rocking rhythm and blues sounds of Motown.
The sound of the band is built around guitarist Adam Greene and the tinkling ivories of Joe Glossop but it is singer Lynne Jackaman who really shines a light.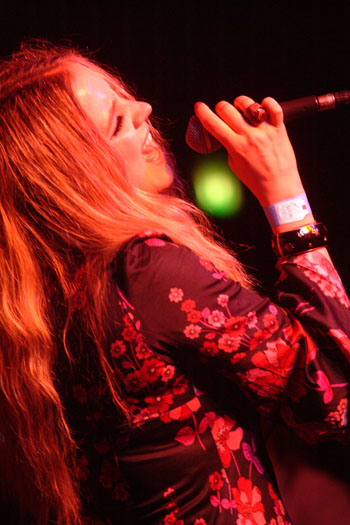 Jackaman has been compared to Janis Joplin, but this is how she would've sounded if she hadn't smoked 20 Marlboro a day and downed a bottle of Bourbon. She sounds like Sass Jordan, or a young Tina Turner, she is simply the best.
Clothed in authentic seventies attire Jackaman looks and sounds like the real deal, a beautiful creature that possesses iron butterfly lungs.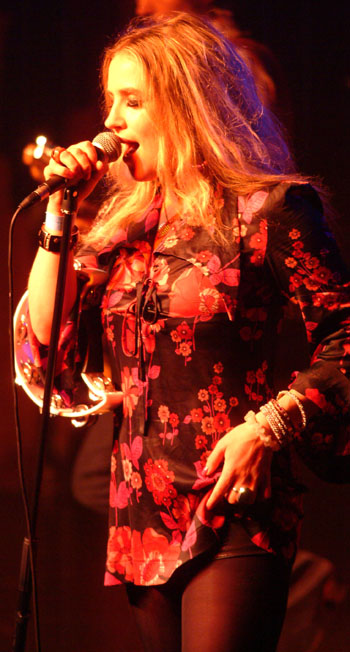 With only one album under their belts 'Diary Of A Soul Fiend', every song tonight hits you in the stomach playing on every emotion.
'Soul On Fire' is the song that the Black Crowes never wrote,'Angel ' can make a foolhardy guy think the song is being sung directly to him from Jackaman.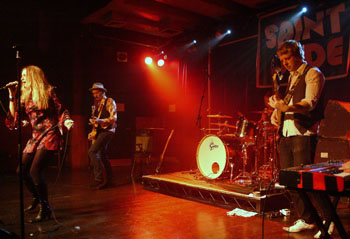 There wasn't a dud song played tonight. When Jackaman isn't singing, she's twisting and twirling, whooping and wooing.
Saint Jude don't make it bad, they take a sad song and make it better. Check out this hot band whilst you can at the smaller venues because it won't be long before the Saints go marching in.


Set list : Soul Of Fire/ Little Queen/ Pleased To Meet You/ The Way I Love You/ Angel/ Leave A Light On/ In My Head/ Sweet Melody/ Parallel Life/ Down And Out/ Garden Of Eden/ Southern Belles.....Encore: I'm Losing You
Review by Mark Taylor
Photos by Noel Buckley
---