POOBAH Let Me In Ripple Music RIP CD005 (2010)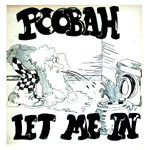 'Let Me In' by Poobah is an unexpected stonker of an album. More a kick in the guts than a finely honed piece of prog/metal meets hard rock, this American acid drenched outfit have re released six stellar hard rock tracks from the early 70's - think Sabbath meets Hawkwind - and then topped the project up with 12 additional bonus tracks from the same era. And the end result is one of the most essential raw slices of acid drenched jammed out hard rock I've heard for years.
This American band wouldn't have been out place on a 70's UK festival with Edgar Broughton, Sabbath or Hawkwind (the Lemmy version). The music had me scouring the cd booklet for clues as to the band's original existence. In fact all the cuts were recorded in Ohio circa 72/73, and most of the material has stood the test of time as stoner hard rock. There's everything from the opening cartoon voices to melodic prog rock, boogie, rock & roll , space rock and even two unlikely Yoko Ono wails in the middle of 'Bowleen' and the restless tempo change of 'Walk of the Bug'
But it's best to concentrate on the original six tracks, which are strong enough to warrant this reissue and lead us to further investigate the bonus tracks.
The opening 'Mr Destroyer' is Ozzie meet Hawkwind with glorious wah wah heavy solos in a jam format, while 'Enjoy What You Have' is all pregnant chord changes, and delicate harmonies, not unlike T2 from the same era. And while the album at times veers towards parody, the music is both too intense and creative to be relegated to mere satire. Overlooking the dated between track voices, songs like the pounding rhythm and psychedelic guitar of 'Bowleen' is the stuff that brought many of us to hard rock in the first place.
'Rock 'N' Roll' is a tub thumper that lives up to its name and the title track is another fuzzed up bone cruncher, complete with an unreconstructed drum solo.
And so to the bonus tracks, of which 'Make A Man Outta You' veers toward Garage Rock albeit with an acapella proggy vocal section, while 'Upside Down Highway' is the kind of acid rock jam with feverish bass and crisp cymbal work that you thought had disappeared for ever. It's a style they revisit on the powerful instrumental 'Blooey Gooey' complete with a state of the art fazer, while a coda of 'Mr Destroyer' (this time a live rehearsal) pushes the band still further towards Sabbath territory. They also further explore their anarchic side on the cymbal splash heavy 'Passion For Freedom'. And with Jim Gustafson's ripping guitar, some extra worldly screams in the true freak-out tradition of the era, and a post Zappa touch on the echo reverb voice collage (similar to 'It Can't Happen Here'), Poobah seemed to have tapped into the core vein of underground rock of the time.
In fact you suspect somebody at Ripple Music must have their finger on the pulse of all things retro, because this album might not have been possible a few years ago. But let's simply rejoice in this mirth filled mix of hard rock, metal, grunge, psychedelic and unfettered spontaneity that was all but lost roundabout 1974 with the rise of big studios.
Poobah have gloriously reconnected with the contemporary jam band tradition and like the mothership Hawkwind can potentially be all things to all people.
Never has AC/DC's 'For those about to rock. We salute you' seemed more apt than for this rough edged barnstorming combo. Headbangers step this way and rejoice.
*****
Review by Pete Feenstra
---
| | |
| --- | --- |
| | Print this page in printer-friendly format |
| | Tell a friend about this page |