PAUL CARRACK A Different Hat PCARCD19(2010) www.carrack-uk.com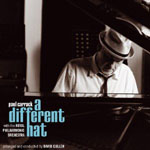 Paul Carrack has produced some wonderful music since those heady and hairy seventies with Ace, and later with Squeeze and Mike and the Mechanics.
Having interviewed Paul for Get Ready to ROCK! Radio, he comes across as a very down to earth, realistic, and modest performer whose main career achievement may simply be to have had such a long career in a notoriously unpredictable profession.
He played down his obvious talents and wanted to be recognised primarily as a vocalist, although he is equally as skilful as a songwriter and multi-instrumentalist.
A Different Hat is just that: you could say that artistically it is the album he's always been working towards. It's a showcase for his vocals against a rich backdrop of the Royal Philharmonic Orchestra and is a million miles away from Ace and Mike and the Mechanics. But it's also a million miles away from his usual solo albums.
If I said it's the sort of album that would find a comfortable home on BBC Radio 2 on a Sunday evening, you will know that it is safe, musical, and will find rapturous applause amongst the blue-rinse brigade.
A series of well-selected standards allows Paul to work his vocal magic: 'Moon River', 'For All We Know' and 'If You Love Me' amongst them but he also sprinkles his own faerie-dust in the shape of 'Eyes Of Blue' and 'Love Will Keep Us Alive' (a song he co-wrote for The Eagles). Both tracks are enhanced by the Celtic pipes of Davy Spillane whilst all is beautifully arranged throughout by David Cullen.
With Carrack regularly touring the UK, the album's closing song (and another Carrack original) 'It Ain't Over' says it all really. But, selfishly, I hope he returns to his white-soul boy persona for the next chapter and perhaps even with a little more r-a-w-k; so as not to lull those blue-rinsers into a false sense of security.
****
Review by David Randall
Paul Carrack regularly features in the singer-songwriter sequence on Get Ready to ROCK! Radio, Mon-Fri 14:00-16:00 (GMT)
---
| | |
| --- | --- |
| | Print this page in printer-friendly format |
| | Tell a friend about this page |