MICHAEL BORMANN Different AOR Heaven (2010)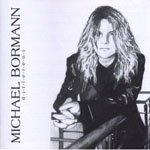 Michael Bormann is a multi-instrumentalist who has played, for a number of years, with Jaded Heart, Axe, Brain and Bonfire. He's also done quite a lot on the production side so a talented individual.
'Different' opens with 'Life is a Miracle', after some initial accapella, the chords break in only to stop for the vocals to take centre stage...instant thought is 'this is Jon Bon Jovi!'. The chorus chimes in, in true AOR style exclaiming life is a miracle. I'm afraid there's no WOW but it bounces along cheerfully. This is followed by 'To the Top' with some Eddie Van Halen'esque guitar licks (getting better). This track moves along nicely and is better than the opener.
Musically it's tight and polished and Michael's voice does have some power and passion here. It ends with a stylish guitar break before the ending refrain.
'Think Twice' starts off in something akin to Styx only to descend into a Bon Jovi type ballad aka 'Dead or Alive'; unrequited love being the subject matter. Next up a radio friendly ditty called 'Somebody'. A pseudo philosophical song making references to roses need water and we all need somebody to love. 'Mr Rock and Roll' is something for the BBQ or beach party. Being 'a little bit out of control' 'walking on the wild side' are regular phrases unfortunately the Mr lost his rock and roll with this track!
Next up for a name check is Bryan Adams with this poppy track called 'My favourite time'. Uninspiring is what I'd call this. Things seem to improve with 'Breathless', this breaks in with sturdy drums, power chords and nice licks. Subject matter is predictable, the beauty of the woman leaving the man....yes breathless, getting it on etc. The chorus is a bit tame for the rest of the song both musically and lyrically. I want those power chords back NOW!! There is a neat solo that soars nicely and rescues this offering.
'Don't Tell Me' is smoochville with piano and gentle strumming guitar. It's very formulaic but would please couples on the last dance at a disco or cuddling on the sofa. This is chased up by 'Wouldn't let you down', a few power chords and semi-acoustic fret work, it plods along and there's no punch. 'Who really wants to get older' asks Michael. This is a suprise beginning with more Styx style type intro, gentle tickling of the ivories building up to a foot tapper that moves along nicely, certainly one of the strongest tracks in the melodic rock field.
More analogies in 'No Way Out It Hurts', with being a prisoner in a cell remembering the good old days of love and romance. The music is reminiscent of Toto. The harmonies are nice here but this sticks with the previously mentioned 'formula'. A mother tongue track as Michael goes Germanic with 'Was Mir Fehlt' (what is missing). Piano, acoustic guitar, another ballad and end of album.
This was supposed to show Michael Bormann as a heavy hitter and crossover artiste, heavy as a feather and crossing over what?? His voice is very Jon Bon Jovi and some of the songs are Bon Jovi. One cannot dispute he is a talented artist and accomplished musician. Unfortunately there is nothing here that gives you the punch and urge to rush out and buy it for its uniqueness. It's formulaic and bland. It will appeal to those who like their power ballad/pop in the style of Def Leppard and Bon Jovi. It's a safe, radio friendly collection of songs that doesn't match up to the promotional hype.
*½
Review by Mark Woodhead
---
| | |
| --- | --- |
| | Print this page in printer-friendly format |
| | Tell a friend about this page |