LUTHER ALLISON Songs From The Road
(CD/DVD) RUF1157 (2010)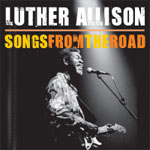 Luther Allison's' Songs From The Road' is an essential purchase, not only because it marks the definitive appraisal of one of the most underrated blues men of his generation, Luther 'Soul Fixin Man' Allison, but also because of his role as a conduit between the old school blues and the new vanguard he championed so eloquently in the last 10 years of his life.
And perhaps the most significant aspect of this double CD/DVD pack is that when Luther looked out at the capacity audience at Montreal days before he sadly died, he saw an audience that was both incredibly young and populated by both sexes.
The accompanying interview also offers an insight to his career touching on Luther's struggle to take his music into Europe - which he did successfully - and the fact that it was Canada that offered him initial acceptance back in 1967. How poignant then that some 3 decades later he should play one of his final concerts in the same city. The pity of it is that it has taken so long for this wonderful audio visual memorial to see the light of day.
Together with his co-writer James Solberg and his trusty American band Luther gives his all, looking as always to 'bleed the note'. As the concert suggests he was an immensely intense, physical performer who relied on making contact with his audience. And he does so effortlessly from the opening shuffle 'Cancel My Check' and the mellifluous 'Living in the House of The Blues'.
James Solberg adds an opening solo on the one of the best tracks of the album 'When Will It Ever Change', which somehow has been omitted from DVD track listing. It's a startling omission as Luther slips into overdrive about half way through this steaming shuffle in a beautiful example of his intensity. He further allies both social and personal commentary on the emotive 'There Comes A Time' and the heartfelt '(Watching You) Cherry Red Wine' while the DVD closer and autobiographical 'Move From The Hood' remains his calling card.
Luther switches to slide for 'Low Down & Dirty', a song penned by his son Bernard, who also features in a bonus clip from the accompanying Brian Read documentary that features some priceless footage from the early 90's in Europe.
The DVD is both superbly shot and well recorded capturing every nuance of Luther's performance and his connection with an enthusiastic crowd. When you consider he died August 12 1997, a little over a month after this concert, it was the best possible way to remember him, that is opening for Buddy Guy and bringing the young audience to fever pitch.
He finishes on the wonderful 'Serious' on which he growls, 'You thought I was gone, I came back, I want you to know, I'm serious as a heart attack'. He may be gone but 13 years on he's not forgotten and if Luther was the main reason for Thomas Ruf to start his label, he could not have picked a more inspirational blues man. 'Songs From The Road' is the perfect tribute to one of the most passionate blues performers of our age.
*****
Review by Pete Feenstra
---
| | |
| --- | --- |
| | Print this page in printer-friendly format |
| | Tell a friend about this page |