LUCINDA BELLE ORCHESTRA My Voice & 45 Strings (2010)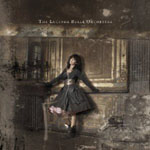 Already finding favour with the broadsheet press, Lucinda Belle wasn't quite what I was expecting.
The Lucinda Belle Orchestra is essentially the sum of one harp, a harmonium, the melodica, strings, horns, an upright bass, a clarinet, guitar and the songs and voice of ex launderette owner and amateur boxer Lucinda Belle.
From an early age, Lucinda was smitten with the harp and progressed from youth orchestra, to Opportunity Knocks winner, and to touring/recording with the likes of Pet Shop Boys, Rufus Wainwright, Annie Lennox and Missy Elliot. And after playing with Robbie Williams at last year's BBC Electric Proms, an invite onto Fearn Cotton's radio show led to a five album deal with Universal. My Voice & 45 Strings is the consummation of that marriage.
I'm not sure what I was expecting, but certainly something more classically rooted than the ragtime vaudeville jazz of My Voice & 45 Strings. For a start I expected a harp based set, rather than an excellent singer songwriter set where the harp plays a prominent supporting role rather than dominating proceedings. The second surprise was that Lucinda Belle turns out to be the latest addition to the quirky singer songwriter genre.
An immediate reference point is Paloma Faith, although Lucinda Belle is less quirky and less overtly commercial, leaning more towards Melody Gardot territory with the harp almost indistinguishably taking what, with other artists would be piano lines. It's an intriguing combination and one that makes you want to keep reaching for the repeat button, even if you're not quite sure why.
In essence, it's not my normal cup of tea at all. But d'you know what? Whisper it quietly, but Lucinda Belle is rather good and surely destined for great things.
***½
Review by Pete Whalley
---
| | |
| --- | --- |
| | Print this page in printer-friendly format |
| | Tell a friend about this page |