JOAN BAEZ Day After Tomorrow Proper (2010)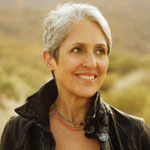 Who would have thought in today's instantly disposable popular culture that there would be still be room for a socially conscious balladeer like Joan Baez. But that would be to underestimate the today's significant roots scene that has produced such major talents as 'Day After Tomorrow's producer and contributing songwriter Steve Earle, and other such featured talents as Eliza Wilkinson and Thea Gilmore.
And aside from giving Joan's timeless voice the perfect context, Steve Earle is smart enough to bring together the right assortment of songs and a stellar acoustic line-up to give her a new found sense of contemporanity.
The opening country duet 'God is God' is a moving opening song that perfectly combines enquiring lyrics with Joan expressive voice.
Aside from her concern with political and social issues (all of which find a place among the 10 songs) Joan has always been a strong interpreter of song and that remains the case on this album. But it is one thing to interpret someone else's songs and quite another to transform them to your own ends. She does this unbelievable well on the Tom Waits written title track in a simple but hugely effective solo voice and acoustic mode. Similarly on the heart wrenching doomed miners lament of 'Henry Russell's Last Words' by Diana Jones, she somehow manages to add yet more emotion and poignancy to lyrics that stand on their own as one of the most moving songs ever written.
And so it is with Steve Earle intuitively produced album that Joan's expressive voice is given its primacy, whether on the opening new country duet 'God is god' or on the minimalist production of the Eliza Gilkyson spiritual 'Requiem' The lines 'Mary fill the glass to overflowing, Illuminate the path where we are going', is almost the perfect spiritual couplet by which to summarise the album's deep lyrical bent.
For while the compilation of songs shifts its subject matter from the religious to a love ballad and takes in optimism in the face of war ('Scarlet Tide' and the title track) and death ('Henry Russell's Last Words') and the dispossessed ('Requiem'), it finally offers a form of the spiritual redemption and emotional resolution on the closing Steve Earle penned 'Jericho'. The song derives a further impact from being sung in acapella mode with handclaps.
The themes may be as familiar as they are timeless, but they come largely from the pens of a new generation of song writers intrinsically tied up with a remarkably preserved and indefatigable artist of over 50 years standing.
*****
Review by Pete Feenstra
---
| | |
| --- | --- |
| | Print this page in printer-friendly format |
| | Tell a friend about this page |