JOAN ARMATRADING Live At The Royal Albert Hall
(2-CD/DVD) Hypertension (2010)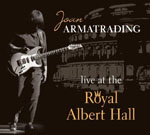 The live DVD + 2 CD set seems to be in vogue at present. The only downside being you don't get the choice of whether you want both formats. But at the right price point, it's a bit of a no brainer.
Joan Anita Barbara Armatrading, MBE has been gracing our record collections for four decades now. And along with artists like Judie Tzuke, she's a singer songwriter who's unwilling to rely on the strength of her back catalogue. Instead she's maintained a very loyal following who've supported her continued career down the years.
This concert, released with no overdubs or additions captures her in April this year on her thirty five date This Charming Life theatre tour. Widely regarded as a return to form, the tour naturally focuses on that album, but the vast majority of the 21 tracks are a very, very fine 'best of' selection.
Dressed in a baggy charcoal grey boiler suit, open toed sandals, and mop top that all but hides her eyes, Joan is ably supported by an first-rate backing group of John Giblin (electric and double bass), Gary Foote (drums and sax) and Spencer Cozens (keyboards). What impresses most, is perhaps her own dexterity on electric guitar - for example, on the moody Something's Gotta Blow, and the bluesy Tall In The Saddle and Into The Blues.
As you can probably imagine, it's a musical, as opposed to a visual feast, so on the video the lack of visual interest is compensated for with ever changing camera angles.
Whether there was much audience interaction is impossible to know - if there was, apart from before the encores when she's very amusing, it's largely been edited out. And while I can understand that for the CDs, it would have been nice to leave in on the video footage.
But that's minor niggle. There's no question this package is going to tick all the boxes with fans - quality songs, great vocals, and a superb band. If there's a single word that sums it up, it's 'classy'.
Joan Armatrading's powers as a performer have been undiminished, and on this evidence enhanced, by time. Her new material - Cry being a prime example - stands shoulder to shoulder with classics such as Love And Affection, and wonderfully understated renditions of The Weakness In Me, and Willow.
If a DVD is powerful enough to start a sceptical reviewer searching for back catalogue gems, then it's an essential purchase for anyone who caught the tour and everyone who wishes they had. Sadly, I'm now one of the latter.
****½
Review by Pete Whalley
Album review (This Charming Life)

---
| | |
| --- | --- |
| | Print this page in printer-friendly format |
| | Tell a friend about this page |