JIMMY BOWSKILL BAND Live RUF 1158 (2010)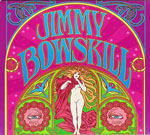 Jimmy Bowskill's 'Live' debut CD for Ruf is an enjoyable raw rock/blues record by a band honing its own style. In fact 'Live' captures both the highs and lows of Jimmy blunderbuss approach. But overall there's enough raw quality and an undeniable bluesy feel to help make a good fist of exploring the same Free and Brit Blues invasion influences that inspired Bonamassa.
Jimmy is an intense player with a locker full of licks and a voice that can shift from the passable to the startling. In fact he's got a potentially fine upper register and an occasional Marriott style scream as evidenced by his intense performance on the slow blues 'Ride A Pony'. But you have to be something special to stand out in today's overcrowded Rock/Blues landscape and this 'Live' album has just about enough memorable moments to suggest Jimmy is in with a real shout.
You can almost hear the band searching their way on the crunching riffs of their first single 'Diamond Ring' and better still on one of their best efforts 'Loser'. The latter explores an imposing dynamic to its climactic finish as Jimmy adds one of his best vocal performances and rips things up on his guitar.
On the live favourite 'Rattlenake Shake' his guitar mangling does the talking with some mighty sustain and the subsequent avalanche of notes compensates for a lightweight vocal. But you do wonder about the reasons for covering 'Walk in My Shadow', as it's already been given a signature airing by Bonammasa.
Another slight criticism is the obviously overdubbed crowd noise, a 70's style practice that sounds a little out of place here.
Finally almost in spite of Paul Rodgers encouragement and his comparisons of Jimmy with the late Paul Kossoff, this is an album on which JB and band work hard to achieve their own identity. Jimmy adds some full blown slide and buzz tone histrionics on 'Be Mine' and segues into the staccato crunching riffs of 'Broke Down Engine' complete with some ebullient cymbal splashes.
He further explores a David Crosby style vibe on the suitably titled 'Drifting Haze', nicely doubling up his vocals with drummer Wayne Deadder before Jimmy's guitar takes the number into a different stratosphere.
On the road tested drum solo feature of 'Karadag' Jimmy steals the Focus riff from 'Hocus Pocus' while on BB King's 'Three O Clock In The Morning' he almost loses his bearings on the intro before regaining his cool and producing a great vocal. JB band 'Live' is an album by a band in its formative years. It drips with raw energy pounding riffs and boundless rock/blues potential suggesting there's lots more good stuff to come.
***½
Review by Pete Feenstra
---
| | |
| --- | --- |
| | Print this page in printer-friendly format |
| | Tell a friend about this page |
***** Out of this world | **** Pretty damn fine |
*** OK, approach with caution unless you are a fan |
** Instant bargain bin fodder | * Ugly. Just ugly
get ready to rock is a division of hotdigitsnewmedia group