JAMES COTTON Giant Alligator ALCD 4940 (2010)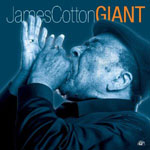 Given that Alligator Records never knowingly undersell any of their artists in terms of PR, the accompanying lush info pack for 'Giant' by James Cotton comes as no surprise. It's a reverential affair that draws on the highlights of a formidable career of an artist who certainly is entitled to be considered a 'GIANT' of the harp, or equally as he used to be known 'Superharp'!
But its ten years since James sung a note because of illness and he's had to rail back on some of his famed showmanship. The result is that this septuagenarian had shifted his emphasis slightly to find a new equilibrium with a band that is powered by the magnificent rhythm section of NoŽl Neal (bass) and Kenny Neal Jr (drums). But while the Neal brothers push the front line players to the limit, the album is slightly hampered by some obvious covers and mediocre singing.
James himself contributes four estimable songs, and pays homage to his former band leader Muddy Waters on three tracks. He also includes a passable 'How Blue Can You Get', but also dips into a rather prosaic cover of 'Since I Met You Baby' and a leisurely if not rather ponderous cover of Jimmy Rogers' 'That's All Right'.
It's a rather over obvious choice of material given the fact that in the recent past he's been a bit more experimental with both a guest album and an unlikely bluegrass and country album.. But that's said, he's in his element on Muddy's 'Going Down Main Street' which places the emphasis on swing and jump blues. Slam Allen's repeated guitar notes neatly build up the tension against a metronomic rhythm section. It's one of the best examples of the band at full tilt before the ensemble drops down for James to add a brief harp outro.
Perhaps the most significant thing about the album is the way James engages his vocalist Slam Allen in a 'call and response' conversation, as he offers a wide range of different harp inflected replies to the vocal lines. Allen has a limited range and certainly doesn't have the power to make the most of some of the material at hand. Indeed he hits both the highs and lows of his performance on the same song, 'How Blue Can You Get', shifting to near falsetto with ease, but then his timing and phrasing goes horribly awry at one point on the hook. Nonetheless, the duo pairing work well enough with Allen's gentle vocal style highlighting Cotton's expressive playing abilities.
Guitarist Tom Holland adds a more gritty vocal approach on Muddy's 'Sad Sad Day' and the band's tripartite production team of Cotton, Jacklyn Hairston and Derek O'Brien offer enough light and shade and twist and turns to keep things interesting. There's the fine funky groove of the Cotton/Allen co-write, 'Change' and some imposing guitar and harp double lines on Leonard Feather's 'How Blue Can You Get'. And as with most of the covers here the payoff comes in the shape of James's signature harp playing, though NoŽl's staccato bass solo is the icing on the cake of a magnificent performance throughout.
'Giant' is a timely reminder of a Grammy award winning harp talent who is a living link between Sonny Boy Williamson and 21st century blues.
James Cotton's best years, may be behind him, but this Texas recorded and Chicago mastered album admirably suggests he's still one of the blues harp players to emulate.
****
Review by Pete Feenstra
---
| | |
| --- | --- |
| | Print this page in printer-friendly format |
| | Tell a friend about this page |