1994 concert and career overview...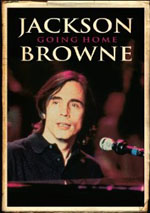 Originally broadcast by Disney in 1994, 'Going Home' is essentially a live concert but is intercut with interviews and archive performance footage from throughout Jackson Browne's career- one that has now spanned 5 decades. Amongst the archive footage there is also an insight into Browne's political and ecological campaigning- something that he clearly feels very strongly about.
'Going Home' features appearances from a number of high profile musicians including Don Henley, Bonnie Raitt, Jennifer Warnes, David Crosby and Graham Nash- although with the exception of Henley, Nash and Crosby these are in the form of archive interview footage.
Highlights amongst the 23 tracks featured on 'Going Home' include 'I'm Alive', 'Running On Empty', 'Take It Easy', 'In The Shape Of A Heart', 'World In Motion' and 'All Along The Watchtower'. There are also tracks such as 'Your Bright Baby Blues' recorded with the Eagles in 1974, 'Lives in the Balance' recorded with Nash and Crosby and a great acoustic rendition of 'You Can Get It If You Really Want' recorded in 1987.
Back to 2010 and Jackson Browne is still active, releasing new album 'Love is Strange' earlier in the year and touring Europe in support of this.
*****
Review by Nikk Gunns