JACK BRUCE AND THE CUICOLAND EXPRESS Live at the Milkyway Flaccid Parrot Records FPRCD1 (2010)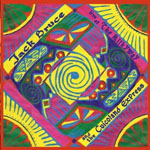 2001 was an interesting year for Jack Bruce fans, what with a major UK TV appearance, a recording with Gov't Mule and his own first significant album for years, 'Shadows in the Air'. Unsurprisingly that album provides much of the material for this new release as Jack stepped out with a Latino tinged, three pronged percussive outfit for some live dates that suggested he wanted to be a tad more adventurous than of yore.
Jack Bruce and the Cuicoland Express 'Live at the Milky Way' finds Jack doing his stuff with most of the same players to be found on the studio album, including Living Colour's Vernon Reid on guitar, Bernie Worrell on impressive organ, plus the rhythmic spine of percussionist Ritchie Flores on congas and Horacio Hernandez and Robby Ameen on drums.
In fact JB and the Cuicoland Express doesn't quite emulate the CD's bright art work. Jack's singing is varying to middling and the promise of rich solos and locked in grooves only rarely happens. The main reason is that the material is far too ponderous and for the most part rarely breaks out of mid-tempo arrangements.
In fact the best moments come on the all too brief moments of inspired interplay that produce real spark. Yet while you have to wade through far too many prosaic moments, and it's not until the brighter outings such as 'Heartquake - on which Reid/Bruce and Worrell seamlessly conjoin their talents and build up a significant dynamic - that the project finally makes sense. Similarly the extended 'Windowless Rooms', is a song on which Bruce manfully screams his away above some apparent claustrophobia, allowing the band to break through the tension as the audience to respond in kind.
But there are too many plodding moments such as on the dirgy 'This Anger's a Liar'. Sure, Jack offers growled vocals and Reid adds some buzz guitar and gnarled riffs but there's too little warmth. Surprisingly it takes an unlikely arrangement of 'Sunshine of Your Love' to fire the band up. It's not so much because they are covering an iconic rock song, but rather because it's the first time the band really breaks sweat and launches into a jam. Bruce himself leads from the front with some potent bass playing with punctuated notes and ultimately a great solo.
But overall, this album poses more questions than answers. Jack seemed to be back in the groove, and totally committed to the groundbreaking percussion heavy line-up, but he doesn't have the material let the ensemble breathe. 'Dark Heart' for example, cries out for some restraint and a more relaxed groove, instead of the forced vocals which seem at odds with the beautifully judged jazzy horn sound and ascending piano lines. It is round about the 4 minute mark that you realise you've been suckered into a jazzy groove, rather than the expected loose limbed Latino outing. Jack's vocal is startling but it's ultimately an exercise in demonstrating his vocal prowess rather than emotively exploring the song.
'White Room' suffers from a percussive overkill and Reid's overbearing buzz tone is a curious choice given Clapton original use of sumptuous tone and clever dynamics. That said, the mid-number band workout with Reid to the fore is impressive, but would surely have been more effective in a different context. This sounds more like an exercise in clever arrangements and Reid/Bruce/Worrell having a blow, rather than a celebration of a great song. A case perhaps of a talented line-up playing for themselves rather than for the crowd
The subsequent combination of JB's upper register voice and Flores's percussion provides an interesting if not challenging opening to 'We're Going Wrong', as the band falls in behind Bernie's organ waves, before a belated resolution on a gut wrenching version of 'Politician'.
And finally back to a percussion heavy Latino groove with the surprisingly excellent '52nd Street Encore', on which everything comes together. Jack add a staccato vocal and the band leans into a fractured funky groove and sparkles in a way that makes what has gone before so frustrating. For beneath the mix of the angular, the obtuse and occasionally cacophonous is a band that can nail a groove and build it into something more interesting.
With a 'players' line-up such as this you could never criticise Jack Bruce for resting on his laurels. You do however get the feeling that the Cuicoland Express ends up blissing out in its own stylistic cul de sac. Perhaps that might be an unlikely function of the record label's 'direct artist to fan base' campaign, which is great if you are in the loop, but a little oblique otherwise.
In sum there are too many complex, dense and over played tunes that make it difficult to emotionally engage us. It may have taken 7 years to rescue the tapes but you do wonder what makes this project any more vital now than back in 2001. For die-hard JB fans only.
***
Review by Pete Feenstra
---
| | |
| --- | --- |
| | Print this page in printer-friendly format |
| | Tell a friend about this page |