Ronnie's last filmed gig...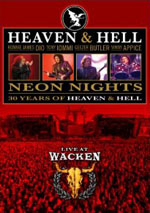 Heaven And Hell, aka the Dio fronted Black Sabbath, have always been a top live and the epitome of classic rock. When this show was filmed, no one could have anticipated it would be Dio's last filmed show, and what a treat it is too.
The main feature, the near 90 minute live show, is classic Dio / Sabbath throughout. After the 'E5150' intro, the show runs through classic after classic after classic. 'Mob Rules', 'Children Of The Sea' and 'I' are a fine start by anyone's standards. And to say the band gel is as understatement; both guitarist Tony Iommi and bassist Geezer Butler are more animated here than I've seen them before (or since), and Dio was one of the best frontmen around, metal or otherwise. He talks to the crowd, and delivers the songs here with a passion. No wonder the crowd appear to enjoy it all thoroughly.
'Bible Black', 'Time Machine' and 'Fear' follow, proving that they weren't relying on the greatest hits, and this material stand up very well too.
The sound is good, the lights and camera angles are all excellent too.
'Falling Off The Edge Of The World' and 'Follow The Tears' come over well, as does 'Die Young', but the highlight of the show (for me at least) is 'Heaven And Hell'.
Set closers 'Country Girl' and 'Neon Knights' round off a wonderful set.
The bonus interviews are split into two sections. Firstly, there the 30th anniversary interviews (it's 30 years since Heaven And Hell the album). All four are interviewed individually, and run to about 15 minutes apiece. Interestingly Dio, Vinnie Appice and Geezer Butler are interviewed by Johnny Trunk, and Tony Iommi by Malcolm Dome.
Secondly there are 3 individual shots to camera from Tony, Geezer and Vinnie, all paying tribute to Ronnie.
I won't spoil it for you, these interviews really are worth watching, but a lot about the band's inter relationships come out.
An audio CD of (most of) the concert is also available separately.
This is a wonderful snapshot of Heaven & Hell, as well as a tribute to Ronnie James Dio, a fantastic frontman.
*****
Review by Joe Geesin