GARY JOHN BARDEN Rock 'n Roll My Soul Inakustik(2010)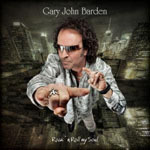 Gary John Barden is Michael Schenker's right-hand man, a perhaps underrated vocalist who has been loyal to the German guitarist since 1980 and who is currently enjoying a deserved MSG revival.
For his third solo album, Barden has chosen to revisit some of his earliest musical memories and fashion an album of covers together with in-demand German producer Michael Voss (and one-time colleague in the band Silver).
As a vehicle for Barden's vocal talents the album is an achievement but in the choice of material it is limited, bringing no new insight to the songs. Starting off with a beefed up 'Oh Well', there are a couple of Purple tributes ('Never Before' and 'When A Blindman Cries') and a full-blown orchestral version of 'The Long And Winding Road', arranged by and featuring Don Airey.
If you are a fan of Barden, via Schenker, you will probably want to investigate but a much better proposition would have been an album of originals. The musicianship here, and Barden's songwriting ability in general, is not in question so this album just seems lazy. Aside from Voss' own guitar and drums input, there are cameos from Tommy Denander ('Why Did You Do It') and Barden's MSG colleague Wayne Findlay.
Barden must have a deserving fanbase in Germany because he includes Barry Ryan's 'Time Only Stops For The Devil' - in German. Coming at the end of the album, it veers on cabaret and the cheesy autobiographical title track (the only Barden original) fails to redeem an album of missed opportunity.
***
Review by David Randall
---
| | |
| --- | --- |
| | Print this page in printer-friendly format |
| | Tell a friend about this page |