Knives out for classic proggers...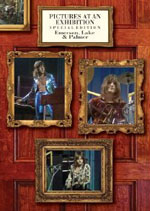 Emerson, Lake and Palmer were (and still are) one of Britain's finest prog outfits, taking the 70s by storm in the most grandiose fashion. And for a trio they made a racket too.
Early on in their career they recorded a now classic live album, Pictures At An Exhibition, mixing music of Mussorgsky and their own. That original live album was recorded in Newcastle early 1971; this concert (with a slightly different set list) was recorded in London December 1970, and was later shown in cinemas and issued on VHS.
Classical music has always had a close link with prog and it works so well here. An intimate setting, a small stage, and Keith Emerson with more keyboards than you can stick a knife into. Each musician is energetic and powerful behind his instrument. And while Emerson's keyboards lead the way in flamboyant fashion, you have to appreciate Palmer's drums and Lake's bass, for both intricacy and power.
Occasionally the bass is swapped for acoustic guitar for a gentler moment (were Lake also handles vocals), but the keyboard / bass interplay is important throughout. Emerson's intro gets a cheer before it's heads down for a superb show. And of course the keyboard solo sees Emerson rocking his keyboard so that it is in danger of damaging the stage.
ELP tracks include 'Take A Pebble' and 'Knife Edge', and the show closer is a lengthy rendition of the classic 'Rondo', including a good drum solo.
The psychedelic effects of the original film are all included, which either augment or detract, but it is fitting of the era.
The main show runs to nearly 90 minutes. The 50 minute bonus Pop Shop 1971 kicks off with an interview before the live set. 'Rondo', with drum solo, runs to over 15 minutes, and then it's a classic take of 'Nutrocker', then 'Take A Pebble', 'Knife Edge' and 'Blues Jam / Nutrocker'.
Good value and thoroughly enjoyable. Beginning to end.
*****
Review by Joe Geesin