Three live shows from band's prog period...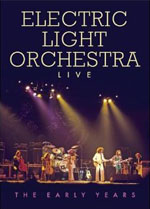 As ELO celebrate their 40th anniversary in 2010 there is plenty of related activity release wise, although sadly not live wise bar the Orchestra, the band who feature ex-ELO alumni Mik Kaminski and Louis Clark. Sony have already released a live DVD of the few dates the band performed for 2001's 'Zoom' album, there are some other treats promised and of course we have this live DVD.
Gathering together three live shows between 1973 and 1976 this shows ELO as they transform from their prog meets pop rock roots through to the hit singles band of the mid-70's and beyond that most people know and love. The Brunel University (1973) and Rockpalast (1974) shows feature 'Ma-Ma-Ma Belle', complete with a simple but addictive guitar riff, two instrumental workouts 'Daybreaker' (allowing Richard Tandy a chance to take centre stage on his Moog) and the classical piece 'In The Hall Of The Mountain King'.
Early ELO also featured a fair few rock 'n' roll classics in their set and this DVD has 'Roll Over Beethoven', 'Great Balls Of Fire' and the Beatles' 'Day Tripper' - a band who had a major influence on the sound of ELO. The sound quality is good although I am not sure there is much of an audience at the Brunel Uni gig as you can't hear much applause.
The Rockaplast show also features a brief interview with the band where each band member gives a brief reply about themselves. These two shows also feature original bassist Mike de Albuquerque and cellist Mike Edwards who had both left before the other show on this DVD 1976's Fusion gig.
The 1976 show features the classic line-up of Jeff Lynne, Bev Bevan, Richard Tandy, Mik Kaminski, Melvyn Gale, Hugh McDowell and Kelly Groucutt (who sadly passed away last year). The Fusion show proves the band had the songs and could put on a great show before they started adding huge spaceships and lighting special effects on the following year's 'Out Of The Blue' tour. The set leans heavily on the 'Eldorado' album plus a few of the then recently released 'Face The Music' album. Highlights include ELO's heaviest (and possibly punk!) song 'Poker', the Move cover 'Do Ya' and a dip into their earlier days with '10538 Overture'.
It goes without saying this is a 'must have' for fans of the band particularly those who enjoyed ELO's earlier, more prog/experimental period. Shame the full interview from the Rockpalast show isn't available and I am sure hi-fi buffs would have liked a few more audio options. A fitting release, in this the band's 40th anniversary year.
****½
Review by Jason Ritchie