DAVID BOWIE Station To Station EMI (2010)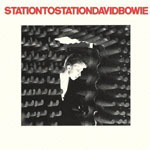 By 1976 my love affair with Bowie was on the wane. For me, his career had started to spiral in a drug induced nose dive. Pin Ups (1973) was a fun indulgence. Diamond Dogs (1974), although a great album, was by his previously stratospheric standards, patchy.
Yet the hits kept coming. But neither of the aforementioned releases scaled the rock 'n' roll highs of Hunky Dory (1971), Ziggy Stardust (1972), and Aladdin Sane (1973), surely one of the best trilogies of albums ever released.
His transition from rock 'n' roll star had started with the blue eyed R&B soul of Young Americans (1975). And before his spaceship fell to earth in Berlin in a blaze of coke, chaos and experimentation, Bowie pulled one last major ace out of his stash riddled pack, reinventing himself as The Thin White Duke. Station to Station perfectly captures the metamorphosis.
Recorded in LA, the project was approached with few ideas or preconceived direction. In the studio, the cloud of coke dust was so thick that neither Bowie, nor his band, can recall much, if anything, of the experience. But the spin off was that the band, and guitarists Carlos Alomar and Earl Slick in particular, were given their head, leading to longer and more experimental work outs.
And where it worked, as on the magnificent pairing of Stay and Wild Is The Wind, it equalled any of Bowie's output - before or since.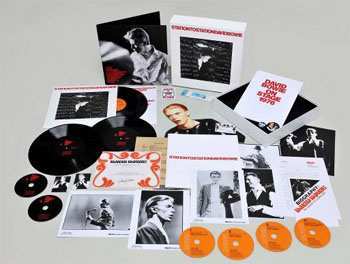 Station To Station has seen many previous re-releases. The selling point of this boxed 2010 version is that it's the original analogue master, includes a 16 page booklet, and most importantly the powerful 2 cd live recording of his 1976 Nassau Coliseum show only previously available on bootleg. Despite Bowie's dependencies, it perfectly captures a superb 'best of' set that any Bowie aficionado will want to have.
And if you've more money than sense, then there's also a deluxe edition featuring five CDs, a DVD, three 12" vinyls, a 24-page booklet and more assorted goodies than you can shake a stick at.
****
Review by Pete Whalley
---
| | |
| --- | --- |
| | Print this page in printer-friendly format |
| | Tell a friend about this page |