All-star hit-fest...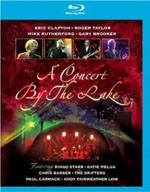 'A Concert by The Lake' is an all-star affair, put together to raise funds for HASTE (Heart And Stroke Trust Endeavour), and featuring the likes of Eric Clapton, Ringo Starr, Paul Carrack & Mike Rutherford (Mike & The Mechanics), Gary Brooker (The Moody Blues) and Queen's Roger Taylor- a true super-group, the ensemble plays for just over 2 hours, performing one classic hit after another.
Although the concert features a great line-up, it does feel a bit middle of the road at times, and this is not helped by the almost static audience. Up on stage, however, the band are anything but static- Clapton is the star of the show, Katie Melua provides some soft jazzy vocals and Ringo Starr is just Ringo Starr. One of the highlights of the show is the appearance of The Drifters- they may not be the original band but they stay true to the band's musical legacy, performing 'Under The Boardwalk' and gospel inspired version of 'Stand By Me'.
Other highlights include Paul Carrack singing 'How Long', Gary Brooker's 'Whiter Shade of Pale' and Roger Taylor's Rod Stewart style 'Those Were The Days' and a laid back 'I Want To Break Free'. The ultimate highlights of the gig though are Clapton's 'Cocaine' and everyone together for Genesis' 'I Can't Dance'- the finale complete with firework and laser show.
'A Concert by The Lake' features some of the country's best loved musicians raising money for a good cause and having fun whilst doing so. The footage has been re-edited from the original DVD and this Blu-ray release has improved sound and picture quality. Bonus features include interviews and backstage footage.
***
Review by Nikk Gunns