COLOSSEUM Live 05 Ruf1162 (2010)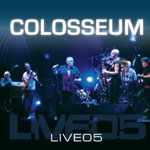 Recorded on a 24 track digital in Germany and Austria, Colosseum 'Live05'overcomes its instantly dated title by virtue of an inspired musical performance and the unexpected excellence of Chris Farlowe in the autumn of his career.
There may not be too many surprises on a live album that neatly updates the band's career with the powerful Dave Greenslade penned 'No Pleasin' (from 1997's 'Bread & Circuses') and Clem Clempson's truly excellent 'Tomorrow's Blues' (from the 2003 album of the same name).
But this double live album restores your faith in all that's good about quality music from the enduring strength of the compositional work to the vibrant performance of a band in its fifth decade.
Recorded by engineer Miles Ashton, the purpose of the album is to present the full Colosseum live concert experience in the best way possible. And to that end 'Live05' is a success, showcasing several musically inspiring moments and giving the listener a real feel for the stellar ind ividual parts that make up such a compelling whole.
Colosseum are many things to many people, from the progressive instrumental jazz rockers stylists of the 60's to the more bluesy flavoured band fronted by vocalist Chris Farlowe.
Happily 'Live05' strikes a good balance between all those elements drawing on a rich (albeit oft revisited) back catalogue that is reshaped and remodelled by the current line-up. And aside from the familiar set list there's an undiminished core of excellent musicianship that lifts some occasional retro sounding music to new heights.
A live Colosseum concert probably couldn't be considered complete without either the three-pronged 'Valentyne Suite' or indeed the climactic 'Los Angeles'. Both are dusted down and revisited with interest. And while 'Rope Ladder To The Moon' may be a little frayed around the edges, the ever popular 'Theme for an Imaginary Western' anchors the early part of the set by virtue of a strong melody line and poignant lyrics.
In truth the jazz/rock tinged instrumental blocks of 'Valentyne Suite' may not sit easily in today's slick musical environment but the suite is nonetheless a coherent triumph born of three linked parts. Barbara Thompson fills the late Dick Heckstall Smith's boots on 'February's Valentine' with a mesmerising kaleidoscope of tones ranging from the gentle and the warm to some piercing soprano notes. She glides her way through an undulating journey full of long sweeping notes that draw applause from the crowd before a perfunctory musical exclamation mark that segues into the opening riff of 'The Grass Is Always Greener'. Clem Clempson's gentle opening notes eventually lead him to a climactic electro storm before a coda of the riff and an explosive end. Farlowe shouts out, 'Colosseum, what a band' as if briefly distancing himself from another highlight, but he still has much to contribute.
The well thought out sequencing of the album presumably mirrors the live set list as Farlowe adds some idiosyncratic but very effective phrasing to breathe fresh life into 'Stormy Monday Blues'. But its Clempson's 'Tomorrows Blues' that provides another highlight as the subtle spacey intro - all sax, guitar and piano - and dreamy arrangement provides the perfect context for Farlowe to do his damnest to make the cut, even resorting to a brief falsetto on a fine vocal performance bolstered by Mark Clarke. Clempson's brief explosive guitar solo acts as the perfect foil for Barbara as she explores the full contours of the song with some spine tingling notes at both ends of the register.
There's time for a cute segue from the stomping crowd to a brief, compact Hiseman drum solo before the hard riffed drama of 'Los Angeles'. 'Live05' is a triumph based on Colosseum re-interpreting of some of their best work. If this line-up has any new material in its locker things could really get exciting. There's so much great playing here and several musical peaks that it would be churlish not to give the album 5 stars.
*****
Review by Pete Feenstra
---
| | |
| --- | --- |
| | Print this page in printer-friendly format |
| | Tell a friend about this page |