CHRIS BRAMBLE For Those With Eyes To See
Bramblin Rose Music (2010)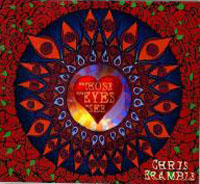 Chris Bramble's 'For Those With Eyes To See' invites us to share his uplifting positive musical vibe. And given the socially conscious messages, potential spiritual enlightenment and moments of essential West Coast psychedelia and Space Rock, there's plenty to admire.
However, if there's a down side it is simply that Chris stretches his stylistic canvas a little too diversely. The music is never less than excellently played with the lyrics straight from the heart, but there's a little too much variety that leads to confusion and dashed expectations rather than fulfilment.
Consider for example the brace of opening tracks that sit comfortably in the
Grateful Dead meets the Jefferson Airplane, West Coast mould. The meandering guitar and impassioned vocals nuances Jerry Garcia while there's Cajun and New Orleans feel to 'Johnny & Darlene', on which Chris Rovetti's fiddle takes centre stage. So far so good and he follows that with 'Grey Clouds', a fleshed out folk arrangement with psychedelic pretensions on the back of some long Dave Gilmour style guitar lines full of judicious echo reverb.
But then Chris seems to lose the big picture. Perhaps he simply wishes to extend his goodwill vibe into different musical directions. On the one hand he settles for the soft rock option of 'Never Say Never' before redressing the balance slightly with the Moog led funky groove and Space Rock feel of 'Lessons Unlearned' before a gentle plaintive country tinged 'Words Left Behind'.
Chris continues down the folky diversion of the Richard Thompson style 'Nine Miles Down' which is a nice melody full of restrained organ, delicate acoustic guitar, mandolin and a vocal that just about makes it. But as the band heads into a Paul Simon style Caribbean feel on 'Won't Get Lost That Way' they are in danger of losing their potential audience. They partially redress the balance with the Celtic undertones of 'Queens Ransom' and save their very best for the ten minute psychedelic epic 'Birds of War' which is so good it's worth purchasing the CD for this track alone.
Imagine an expansive spacey groove along the lines of Gong meets Hawkwind, with Floydian slide guitar and inevitably a Grateful Dead jam style feel topped by some lovely cymbal work and in this case Chris's fine emotive vocals. The lyrics might be slightly doomy but you'd have to go along way to hear a better exposition of psychedelic rock.
****
Review by Pete Feenstra
---
| | |
| --- | --- |
| | Print this page in printer-friendly format |
| | Tell a friend about this page |