CHICKENHAWK Modern Bodies Brew Records (2010)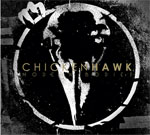 Leeds based metallers Chickenhawk finally record their long-awaited second album having been five years since their last. Having toured with pretty much every UK band worth seeing in the industry today, such as fellow Leeds based up and coming band Pulled Apart By Horses, itís about time!
Opening track 'Scorpeau' is the perfect soundtrack to being beaten over the head by a hammer. Or so I like to think anyway. Itís hard to tell where Chickenhawk are coming from with their rather odd alternative rock/thrash sound but itís damn good no matter what their influences are.
The next track, 'NASA vs ESA' is ferocious and follows an extremely experimental song structure. It is yet more evidence to the idea that Chickenhawk donít have any sense of restraint when it comes to making noise.
The tracks seamlessly blend together and before you know it youíre halfway through the album after 'The Let Down', 'Son of Cern' and 'The Pin'. All tracks which perfect the genre of thrash while maintaining dynamic unlike the mushy mixtures of heavy guitar, messy drumming and crazy vocals that is all too common in any modern hard rock.
'I Hate This, Do You Like It?' combines clean melodic vocals with harsh, gritty screaming in a perfect balance whereas 'My Name Is Egg' begins to resemble Slipknot in places with the grimy guitar, roaring vocals and heavy drum beats that sound like Matt Reid has totally lost it.
'Mandarin Grin' is the perfect chance for Paul Astick to show off his varied vocal skills as he effortlessly switches between countless styles while 'Kerosene' again reverts back to the feeling of wanting to hit yourself over the head with a hammer but in a good way.
The longest track on the whole album - 'Gravitronic Life-ray Table' - whizzes past just like the rest of the album has and the album closes on a surprisingly gentle guitar melody at the end of 'Bottle Rocket' which slowly abolishes the urge to hit yourself over the head with a hammer (yes, the hammer is being mentioned again).
Even though this album clocks in at around 45 minutes, it seems to be over in five and will leave you wanting, no, NEEDING, more. To sum it up, grab some lager (lots of it), meet some friends, stick this album on and prepare for a huge mosh-fest.
Safety warning: Avoid all hammers and any dangerous objects while listening to this music.
****
Review by Abigail Suter
---
| | |
| --- | --- |
| | Print this page in printer-friendly format |
| | Tell a friend about this page |