VARIOUS Cave Of Clear Light: The Pye and Dawn Records Underground Trip 1967-1975 Esoteric (2010)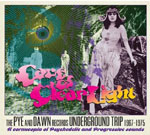 A deep catalogue raid on obscure latecomer to the burgeoning progressive music scene of the late 1960's in Dawn Records takes us headlong into some marvellously eclectic music released by the label and its owner, hopelessly unhip Pye label, bagging up the better known in Donovan, Quo, Man and Stray with others that burned brightly but briefly: step forward Velvett Fogg, Blonde On Blonde, Titus Groan et al.
This superb 3CD box set is tipped in favour of prog rock but there's pop, too in pre-Purple Episode Six, early Quo as it gets fused with psych and pre-Man The Bystanders who honour us with the set's title, and fusion in jazz, folk (Trader Horne) and blues.
Compiler Mark Powell has previous form of pulling together label overviews of this kind. He's done them for Charisma, Island, Vertigo and Harvest and one could not unreasonably ponder as to whether he may have had a struggle to keep the quality levels up with tiny Dawn/Pye, Johnny-come-lately's who as Powell's notes admit, never really got the scene nor made the music work commercially (almost all their acts got bigger and better by moving on).
That he has succeded to this extent is as much a testament to his expertise as to the sounds on offer here, the groovy zeiitgist of which incidentally, the artwork and packaging design mesmerisingly captures.
****
Review by Peter Muir
Peter Muir presents "Progressive Rock Fusion" on Get Ready to ROCK! Radio, Sunday 19:00, Monday 19:00
---
| | |
| --- | --- |
| | Print this page in printer-friendly format |
| | Tell a friend about this page |