CARAVAN A Hunting We Shall Go: Live In 1974
Store For Music SFMCD062 (2010)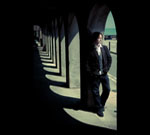 Leafing through the wonderful 'Rockin' and around Croydon' book by Chris Groom, it came to my attention that this live session was recorded on the 1st of Sept 1974 and not the 13th of November as stated unless of course Caravan were supporting Wishbone Ash that night? I'm sure someone will come back to me with the right info.
Most die-hard Caravan fans will already have snapped up the full set of Caravan's 'Live at the Fairfield Halls' release, which was only on the catalogue briefly after its 2002 release. Come to that, they may even have the original French vinyl release 'Best of Caravan Live' (1980). But for the rest of us, this is a welcome mid-price CD/EP re-issue with nearly 34 minutes playing time that serves to remind us of a great band whose mix of prog jazz, rock, folk and sheer brilliant musicianship should have brought them greater rewards down the years.
And while you could criticise the choice of tracks - especially the 'Hoedown' encore - even the most reluctant of listeners must surely enjoy what goes before. The title track embodies everything that was good about the band, with the exception of Pye Hastings's vocals, which come later in the following 'For Richard'. And while the opener sets up some proggy Geoffrey Richardson viola led progressions, 'For Richard' provides the very best moments. Pye Hastings's vocals show just how much Belle & Sebastian take from his delicate almost plaintive style, while the band stretch out on a glorious mix of killer riffs, beautiful keyboard lines, viola and guitar and keyboard interplay. The whole thing is anchored brilliantly by newcomer Mike Wedgewood on the bass and given shape by Richard Coughlan's unfussy drumming.
Much like Stackridge, the great thing about Caravan was their Englishness and their humour. Think about all those American fusion bands in the 70's and the jazz/rock scene in general, and you are for the most part reminded of stellar musicians in search of a song in between repeated riffs. Caravan spread their stylistic wings much wider than many of their contemporaries, to capture moments of psychedelic rock, crossover fusion, and folky whimsy. Their inspired moments of improvisation, doleful humour and creative ideas all somehow found a place in a complex musical landscape.
The closing 'Hoedown' shows how they made a conscious attempt to connect with their audience, bringing levity to some quite brilliant playing. Jazz rock and fusion may have become passť, but when you hear 'A Hunting We Shall Go' you are reminded of Soft Machine without the po-faces. In some respects this is warts and all release, particularly so with 'Hoedown', but it doesn't matter, as the three tracks capture the essence of a unique band, and that alone is something worthy of a mini re-issue such as this.
****
Review by Pete Feenstra
---
| | |
| --- | --- |
| | Print this page in printer-friendly format |
| | Tell a friend about this page |