BUCHANAN Suit Of Lights (2010)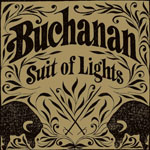 Buchanan is a new name to me. A Manchester based country band the five piece outfit feature four accomplished song writers and in guitarist James Filder a thoughtful lyricist who fuses his words with an occasional emotive melody line, some fine harmony singing and confident musicianship to good effect.
But on too many occasions Mark Wilkinson's vocals sound too much like derivative Johnny Cash and on songs like 'House on the Hill' the band come perilously close to the dreaded country and Irish.
It's a shame that having mastered the tenets of country music on this the band's third album, they are not able to detach themselves from the safe 'country by numbers' approach and push towards more individual style.
The only times Buchanan really come into their own is on the back of some excellent Filder lyrics as on 'Joe Louis' where he dredges up the legend of 'Joe Louis' to include some very clever boxing metaphors such as, 'Threw my best shot, wasn't hard enough. The world's as twisted as the wraps inside my glove'.
Equally good is the closing noir narrative of 'The Longest Night' on which his lyrical intent is nicely mirrored by Richard Curran's violin.
But for the rest the spectre of British County unfortunately dominates an album sung in American twang as evidenced by annoying songs such as 'Cowboy Singers: Rock & Roll' which references southern cities probably as foreign to the band as to their potential listeners.
Similarly on the heartfelt 'The Star That Fell To Ground', lyrics such as 'rhinestones in that dress no longer sparkle' are clichéd and pretentious, while on the love song 'Jim Todd's Blues' the band are merely guilty of peddling boring MOR country.
Yet Buchanan does have staple elements to admire and shouldn't be dismissed for simply being an Anglo country outfit. Steve Conway's 'East of Eden' for example, while musically reminiscent of Dr Hook contains the kind of uncompromising lyrics such as 'She could strip you to the bones in a matter of days, A cold hearted butcher, Your pain could not touch her, As she carves you to pieces, And leaves you to drain', that will not sit easily with the Grand Old Opry crowd.
Perhaps by virtue of their lyrics alone, Buchanan might just have a brighter future in publishing by furnishing existing country cowboys like Clint Black with songs they currently appear unable to write themselves.
***
Review by Pete Feenstra
---
| | |
| --- | --- |
| | Print this page in printer-friendly format |
| | Tell a friend about this page |