BRITNY FOX Britny Fox/Boys In Heat Ironbird (2010)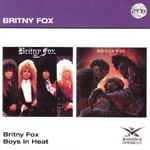 Britny Fox were originally formed in 1985 and by the time their self-titled debut album was released in 1988 their Cinderella style hard edged glam rock was at it's peak- the video to single 'Girlschool' helped propel the band into the US Hot 100 and the album went on to sell over a million copies. As well as the obvious comparisons to Cinderella, the bands sound also encompassed touches of AC/DC and the more commercial side of Motley Crue.
Highlights on Britny Fox include 'Fun In Texas', 'Long Way To Love', the power ballad 'Save The Weak' and a cover of Slade's 'Gudbuy T' Jane'. The band toured extensively and played over 130 dates in support of the record, building up a solid fan base as they went. So things were looking good for the band when they went on to record second album 'Boys In Heat'.
Released in 1989 - a time when this style of rock could do no wrong, Boys In Heat is a slick, polished album that- 20 years on, still holds your attention from start to finish. From the opening track 'In Motion', the first 4 songs are a fast paced salvo that will really get you going- it is worth mentioning at this point that I originally bought this album on cassette and within a couple of months had worn it out and had to replace it, it was these few tracks that did it!!
Highlights include 'Standing In The Shadows', 'Livin' On A Dream', 'In Motion', 'Stevie' and a great cover of Nazareth's 'Hair Of The Dog'.
The band toured the album and even made it as far as Europe with Alice Cooper and Great White - however, album sales were slowing down for the band and a proposed support slot with KISS fell through. Sadly that tour may have regenerated interest in the album but it was not to be and it's sales didn't match those of its predecessor. Front man 'Dizzy' Dean Davidson quit Britny Fox shortly after and went on to form Blackeyed Susan and the band recruited Tommy Paris for 1991's 'Bite Down Hard'. By then, however, Grunge was beginning to kill off many bands in this genre and by 1992 Britny Fox had disbanded.
Since 2001 various line-ups have performed as Britny Fox, none of them with all 4 members from these 2 albums- the latest incarnation of the band features only bassist Billy Childs as an original member. So if you want to hear some great music from this under-rated band, I would highly recommend this 2 CD package.
****
Review by Nikk Gunns
---
| | |
| --- | --- |
| | Print this page in printer-friendly format |
| | Tell a friend about this page |