Ozzy tinged riff-fest...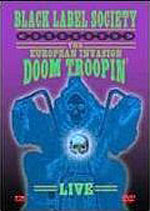 Originally released as a 2-DVD set, Black Label Society's 'Doom Troopin' Live- The European Invasion' has now been given the Blu-ray treatment and released as a single disc. The beauty of Blu-ray, apart from the improved sound and picture quality, is the sheer volume of material that you can fit onto a disc- and this release sure does pack it in.
Featuring not only a whole show recorded in Paris on the band's 2005 European tour (supporting the recently released 'Mafia' album), but also a further 4 songs from their show at London's Astoria- and over 50 minutes of bonus material including backstage footage, interviews and touring segments- all packaged together in the 'Backstage Pass' featurette. There are also 3 music videos and a 'making of' for the 'Suicide Messiah' video - this really is a fan friendly extravaganza.
Probably best known for his guitar work with Ozzy Osbourne, Zakk Wylde formed Black Label Society back in 1998 and until recently had been combining the 2 roles.
If you are not familiar with the band, their Sabbath infused heavy doom riffs are not a million miles away from Wylde's work with Ozzy- and it is easy to see from this live outing how much his guitar playing has influenced Osbourne's sound for the last 20 years or so.
It's no surprise, therefore, during the concert that the crowd go mad as the band play the intro to 'Iron Man' and also the Ozzy-like ''Spread Your Wings'- but there are plenty of fan favourites here - including 'Suicide Messiah', 'In This River' (featuring some stunning playing and dedicated to Dimebag Darrell) and 'Funeral Bell'. The sometimes distorted camera shots work well with the band's heavy riffing and their live feel has been pretty accurately captured.
'Doom Troopin' Live- The European Invasion' is a great package for fans of Black Label Society and, in terms of value for the fans, one that is bound to please.
****
Review by Nikk Gunns