BLACK FRANCIS Nonstoperotik Cooking Vinyl COOKCD513 (2010)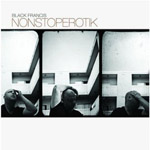 From Charles Michael Kittridge Thompson IV to Black Francis via Frank Black, the ever changing alter ego's of the former Pixies front man tie in neatly with his on going musical explorations.
'NonStopErotik' pushes his prodigious solo output close to 20 album mark and while it has some abrasive moments most of the eleven tracks focus on a sensual/sexual dimension via some cleverly arranged phrases with subtle variations and the resultant changes of meanings.
Black Francis also uses different vocal emphases and the band occasionally steer into some all too brief adventurous muscular musical horizons populated by occasional weird chord progressions, curious time signatures - perhaps the studio ghost alluded to by Francis belonged to Feldman's old musical boss Beefheart - and an edgy mellotron sounding accompaniment.
All these elements make for a challenging and at times complex album woven together by BF's lyrical imagination. And while sex lies at the heart of most of this album it is viewed as an expression of love or even as a means to embrace primal meaning and raw emotion in a world that sometimes doesn't make much sense.
Lyrically BF doesn't pull any punches as he expresses his feelings in both blatant physical as well as emotional terms, whether its on the humorously titled and testosterone fuelled garage rock of 'Six Legged Man,' or the Post Jim Morrison sleazy blues of 'Wild Son' on which he also tosses in a couple of biblical characters. The latter is a cool groove embellished by a typical Black word play: 'She fed me pictures better than scriptures, she read to me scriptures better than pictures, she read to me scriptures I got me a Picture'.
Everything comes together on 'Deadman's Curve' as he offers a brief trademark scream and some Ian Hunter style exclamatory vocals, which also feature on 'When I Go Down On You' - a song about sex as sanctuary and not nearly as one dimensional as the title may suggest.
'Nonestoperotik' warrants repeated plays, partly to get inside the teasing little meanings, the clever couplets, the occasional biblical and surrealist art references. You will also doubtless enjoy his occasional shift from a growl to a Ron Mael Sparks like falsetto, as on beefy production and big finale end piece 'Cinema Star' – 'I'm just a kind of a cinema star, just not the kind you think'. An independent spirit in his post Pixie solo years, Nonstoperotik' is the work of a self confident poet whose inner voice is rings loud and clear through poetic imagery and wide ranging musical moods. Defintely worth a punt!
****
Review by Pete Feenstra
---
| | |
| --- | --- |
| | Print this page in printer-friendly format |
| | Tell a friend about this page |