BLACK BART Black Bart (2010)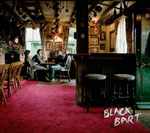 'Black Bart' by Black Bart is an album full of nervous energy, moments of fiery interplay and a handful of strong songs that suggest the South Coast outfit are the latest band on the burgeoning Brit alt. country/Americana conveyor belt.
In fact an Americana band is probably what Black Bart would like to be, but a lot of their material is closer to a bluesy driven, old school, r&b approach, which at times sounds like a cross between Rory Gallagher and Tom Petty. Certainly the riff driven 'Home By the River' - albeit with some slightly over dramatic vocals - is one such example, while on the opening grungy guitar lines of 'Broken Like A Mirror', they clearly display their Neil Young influences.
It's a grungy meandering style they return to on the stretched out 'Song For A Friend', where they build up a jammed out tension on the back of a feverish ascending guitar line. Unlike many of their contemporaries, the band's strength resides in their frisson filled live feel that that belies the studio environment. It's an edgy organic style that could only come from a live unit with plenty of gig experience, or at the very least, hours spent in the rehearsal room.
But Black Bart is a band with a restless exploratory style that equally embraces intense riffery as well as more considered ballads like 'Don't Tell Me Anymore'. It is the strength of the narratives that elevate the Americana genre above the anodyne county clichés, but being young and enthusiastic, Black Bart push their influences into unchartered territories, which makes for an enjoyable and wide ranging take on alt. country.
And in guitarist Rob Joy they have a player who mines riffs like a good 'un and frequently adds jangling guitars to add emphasis to the melody line. He also makes good use of a slightly distorted tone - not unlike Neil Young - imbuing songs such as 'Come Back Home' with a dirt driven feel that stands at odds with the high register vocals of Simon Stanley-Ward.
Black Bart is a band in its infancy with a penchant for some slow burning songs that grow on you. There's certainly enough rough edged, unpolished diamonds on their debut album to interest crossover roots fans and record companies alike. Songs like 'Turnaround (Still Looks The Same)' also benefit from a strong arrangement in which the pacing, the chorus and bv's are those of a band ten years their senior.
They finish with 'Who Made The Water', a good old fashioned riff driven stomp with an eco message that sits well with the values of a young up and coming band.
****
Review by Pete Feenstra
---
| | |
| --- | --- |
| | Print this page in printer-friendly format |
| | Tell a friend about this page |