Tight but not talkative...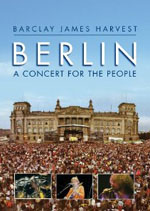 BJH were at the height of the success in 1980, and had always been big in Germany. As a thank you to their fans, this concert was played at the Reichstag in Berlin (Wall still firmly in place), in front of an estimated 250,00 people. 30th August 1980 was the gig, on the eve of the release of the Turn Of The Tide album, and on the gig's thirtieth anniversary, this material appears on DVD for the first time, and with plenty of bonuses too.
The main features some of the setting up, fading to the opening of the gig, where BJH aptly kick off with 'Berlin' and the band soon run into 'Loving Is Easy' and 'Mocking Bird'. The production and sound is great, good visuals too, and the crowd clearly love it all. The band's sound mixes symphonic pop with AOR and progressive hard rock. Plenty of searing solos, layered keyboards, solid rhythms. Enjoyable and easily approachable on many levels, it's easy to see why they were so popular. 'Child Of The Universe', 'Life Is For Living' and 'Hymn' go down well too.
On stage the band are tighter than Superman's tights, and they clearly enjoy themselves, but they're not the most energetic or talkative bunch.
The main feature runs to an hour, and the bonus of the 1975 promotional film Time Honoured Tales will please fans too, featuring five tracks from Time Honoured Ghosts.
If you're a BJH fan it's pretty essential, and it's well packaged with 2 booklets too.
***½
Review by Joe Geesin