BERNARD ALLISON The Otherside Jazzhaus JHR 029 (2010)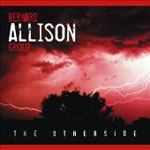 'The Otherside' is Bernard Allison's thirteenth album since he stepped into the shoes of his celebrated father Luther Allison 13 years ago. But while 'The Otherside' has its moments, this is not an album that steps any closer to establishing Bernard's own style. Indeed when compared to say his early career 'Times Are Changing' there's a loss of drive, focus and energy.
For while there's some polished playing with probably too much sax and not enough of Bernard's incisive guitar playing, the overriding languid feel of the 13 tracks suggests he's struggling with his material if not his identity.
The title track for example, comprises some vacuous lyrics that ultimately ponder a surprisingly deep question. Thus BA relates; 'My mind is wondering, often wondering what lies on the other side?' But given the mundanity of the verses, you almost wonder what he means by 'The Otherside'?
In fact you could argue that the 'Slide Master' would have made a much better title track especially as it showcases one side of BA's considerable guitar talent. By the time Bruce McCabe's oft covered 'Still Raining' and a forgettable rendition of Hendrix's 'Fire', the choice of material has become a real issue that is only partially resolved by the far too abrupt fade of the closing cover of Luther's 'Let's Try It Again'.
Lonny Brooks takes over lead vocals on one of Bernard's best songs 'Leavin' The Bayou', but a decent producer would surely have noted that the vocals simply don't work and make the song sound almost claustrophobic. Bernard adds some overdue stellar guitar lines and dirt sounding slide on a track that sits nicely alongside 'Allison's Way' and 'Let's Try Again', but for the most part 'The Otherside' barely reaches beyond a gentle meander through funky influenced blues and shuffles.
Perhaps it's time BA and manager Dave Brown sat down with esteemed song-writer and band member Bruce McCabe and had a rethink, because 'The Otherside' is the kind of cruise control formula bill of fare that is at best suited to someone twenty years older than Allison Jnr.
***
Review by Pete Feenstra
---
| | |
| --- | --- |
| | Print this page in printer-friendly format |
| | Tell a friend about this page |