Includes Massachusetts...and we're not just talking about the brother's dentistry ...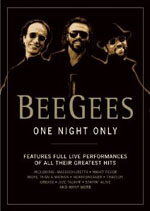 Love them or hate them, you cannot ignore the fact that the Bee Gees have sold over 200 million albums in a career that has lasted 50 years, making them one of the best selling bands of all time. In the '70's the brothers Gibb redefined the disco era with their infectious hits- and re-ignited the careers of the likes of Diana Ross, whose massive 1986 hit 'Chain Reaction' was written for her by the band.
'One Night Only' features the band playing all of their hits, in a set bolstered by fan favourites, recorded live in 1997 at Las Vegas' MGM Grand- the DVD has now been expanded and ids about to be re-released to celebrate the bands 50th anniversary.
Looking through the track listing you get a sudden realisation of the extent to which the Bee Gees have contributed to popular music throughout their career, with the likes of 'Words', 'Grease', 'Stayin' Alive', Tragedy' and 'How Deep Is Your Love' featuring amongst the DVD's 31 tracks- and the band don't rely on past glories either as the set also features a number of songs from their recent albums such as 'Still Waters'.
During the show Celine Dion joins the band on 'Immortality' and the boys are joined by video footage as they pay tribute to their late brother Andy on 'Our Love (Don't Throw It All Away)', whilst Frankie Valli joins them for 'Grease'. The additional bonus features include an interview with the band as well as 3 bonus tracks from the highly successful 'An Audience With...The Bee Gees'.
'One Night Only' is one of the few Bee Gees shows to be filmed and finds the band in great form- now the DVD is a great reminder of the band's live performance as they unexpectedly lost Maurice in 2003 and the 2 remaining brothers have since appeared to have retired the Bee Gees, leaving behind them one hell of a musical legacy.
****
Review by Nikk Gunns