BANGLADORE CHOIR On Target Metal Heaven (2010)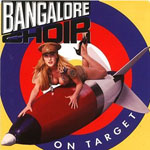 Originally released in 1992, Bangalore Choir are about to re-release debut album 'On Target'. The album itself is a smorgasbord of late '80's classic rock sounds- full of big guitars, massive choruses and hooks and harmonies a plenty. Had this album been released a couple of years earlier, and on a major label, it would have gone double platinum easily.
Featuring former Accept vocalist David Reece, and guitarists Curt Mitchell and John Kirk, Bangalore Choir were originally formed in 1990 and were popular amongst the Hollywood record labels before releasing 'On Target' via the Giant label. However, the onset of grunge, the loss of their rhythm section and a lack of label support soon found the band breaking up after a good 2 year run.
'On Target' is reminiscent of late '80's Whitesnake in part, particularly on tracks 'If The Good Die Young (We'll Live Forever)' and 'All Or Nothin''. Apart from being a nostalgic trip to that era though, the album stands up on its own; other highlights include 'Doin' The Dance', 'Hold On To You' and 'She Can't Stop'.
If the album appeals to you , you will be pleased to hear that most of the bands last line-up (guitarist Curt Mitchell is rumoured to not be taking part in the reunion) are currently recording a new album to be released on Metal Heaven later this year, until then, grab yourself a copy of this long hidden gem.
****
Review by Nikk Gunns
---
| | |
| --- | --- |
| | Print this page in printer-friendly format |
| | Tell a friend about this page |