BACHMAN & TURNER Bachman & Turner (2010)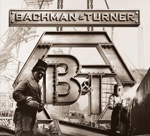 Back together again after being apart for over 20 years, there must there must be five words - 'you ain't seen nothing yet' - that Randy Bachman and Fred Turner have nightmares about. Their 1974 Bachman Turner Overdrive hit, from their Not Fragile album remains a solid gold pension plan for sure (what classic rock compilation is complete without it?) but it must hang over every new piece of work they've ever done like a yardstick against which a project is measured.
So I tried to listen to Bachman & Turner's with no preconceptions. And failed. But with a new, suitably industrial, website, and new logo constructed of girders the band certainly convey a tough new image. And if any of the track titles mentioned in this are wrong - apologies, but the info supplied with the pre release copy didn't even run to a track listing.
And the album doesn't disappoint as it kicks off with Rollin' Along - a ZZ Top style rocker with raw Listerine soaked vocals. Things are looking good. But, That's What It Is throws elements of funk and almost Earth Wind & Fire soul into the mix, together with a few classic BTO riffs and some tasty lead guitar work. What gives?
Moonlight Rider has more burned out vocals, a classic hook, more fluid lead work with an almost oriental motif to the riff (and did I detect strains of Boogie Nights - what trips have Randy and Ted been on?). But when you think about it, most of the BTO output in the 70's was patchy. And Bachman & Turner is equally flawed. Hidy Hi, Heidy Ho is just a little too cheesy for comfort, but all things being equal it's as if the band have never been away. And there are always one or two gems in each set. Here, This Waiting Game is the undisputed pièce de résistance, attaining air guitar nirvana in the form of some monumentally molten driving lead guitar work. That and the colossal slab of ZZ Top style rock, that is, I Can't Go Back To Memphis.
If you rooted round in your old vinyl collection and pretended Bachman & Turner was a lost BTO album no one would doubt you. All the hallmarks are there. You have to ask, 'have Randy Bachman and Ted Turner been cryogenically frozen for the last 20 years?' Because they sound like a day hasn't passed since their heyday. Now that's got to be a good thing. Welcome back guys. The live shows should be an absolute blast.
***½
Review by Pete Whalley
---
| | |
| --- | --- |
| | Print this page in printer-friendly format |
| | Tell a friend about this page |