ARTHUR BROWN KINGDOM COME Arthur Brown Kingdom Come Esoteric (2010)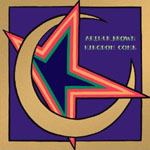 Many laid claim to the term progressive when the genre hit paydirt in the early '70s, and having hopped onto the bandwagon noodled along comfortably on the back of a truly innovative few. Former soul singer, Arthur Brown reinvented himself enthusiastically up to his mid-career, post an hysterical turn with his psychedelic Crazy World's hit 'Fire' in 1968 folding into stoner experimentalism with this line-up, whose three releases for Polydor are distinguished not least by their musical separatism.
1971 debut Galatic Zoo Dossier mixed rock and electronica; this is peppered with a growing spiritual undertow to its bouts of Bonzo-esque zaniness. Brown's assertion that the album maintains a thematic thread exploring the elements (it's supposed to be about water) is not particularly evident in the outcome but for some of the track titles, the wet stuff metaphorically muddied perhaps by a general untogetherness that robs Arthur Brown Kingdom Come of overall cohesion.
That said, it has some big moments to be cherry-picked from the mayhem (acid being more than a passing acquaintance of the band) including broody 'Love Is A Spirit That Will Never Die', hyperactively bonkers 'The Experiment' and extended playout 'The Hymn'.
With a memorable melody line, this agreeable meander of Andy Dolby's processional guitar work over mellotron and piano topped by Brown's dramatic and individual vocal hinted at new things to come in spacey swansong Journey the following year. Alternate takes make up bonuses and notes writer Malcolm Dome's quizzing Arthur is revealing and engaging in turn.
***
Review by Peter Muir
Peter Muir presents "Progressive Rock Fusion" on Get Ready to ROCK! Radio, Sunday 19:00, Monday 19:00
---
| | |
| --- | --- |
| | Print this page in printer-friendly format |
| | Tell a friend about this page |