THE ANNIE DUGGAN BAND If I Knew Then...
Clarkside Records CKD48CD (2010)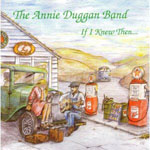 The Annie Duggan Band's 'If I Knew Then...' is a pleasant if undemanding stroll through an 11 tracks comprising Country Rock, Folk Rock the occasional Country ballad and an all too brief excursion into Rock itself.
This is a curiously circumspect album that desperately cries out for an assertive producer to bring some coherence to several good ideas and occasional bursts of fine playing.
Look no further than the problem with the arrangement of the title track for example, which turns out to be a melodic piece of Country Rock with a guitarist - who later turns out to have a Keith Richard (circa Beggars Banquet) riff fixation - hemmed in by an all too early bridge.
As on several occasions on the album the band sounds too diffident, if not unsure of their overall direction.
For her part Annie Duggan never pushes herself to her limits, slipping all too quickly towards a safe country option when both she and her band appear to be capable of far more.
Perhaps it's to do with her Folky background and an unease of venturing outside of a mid-tempo range, but the best moments come on another gentle country rocker 'Ain't That a Shame' on which she delivers some fine phrasing and the stripped down duet of 'The Way You Are'.
Either way, Annie appears happiest when singing without a busy band arrangement.
On 'Shooter's Last Ride' guitarist Rob Hines further extends his Keith Richard meets Country range of licks, while on the more rocky 'Sucking in Air' he adds some effective muscular riffs that Annie should have been capable of extending to a more exciting end product.
And so the album drifts on, not Country enough for the cowboys and certainly not Rocky enough for the leather jacket brigade, leaving only the vaguely defined notion of Folk Rock to aim at.
In fact the closing 'Worn Out Blues' sums her dilemma best, as what at first appears to be a slow burner with some lovely tone colourations from guitarist Hines eventually settles for a damp squib of an ending.
Annie Duggan has thus far appealed in part to UK Country fans, more generally to Folk fans and apparently also to Blues fans in the States.
But she will soon have to make a clear decision about which direction to take, as 'If I Knew Then...' wavers between genres and is in danger of slipping between the cracks as a consequence.
***
Review by Pete Feenstra
---
| | |
| --- | --- |
| | Print this page in printer-friendly format |
| | Tell a friend about this page |