ALICE COOPER Reissues Armoury Records (2010)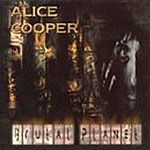 The Noughties saw a resurgence in form and popularity for Alice Cooper, culminating in 2009's Along Came A Spider - an album which many pundits saw as an updating of his 1st 'solo' concept album - 1975's Welcome To My Nightmare. But as this re-issue series of his preceding 4 albums demonstrates, the decade was one of Alice's most consistent of his 40 year recording career.
Brutal Planet, with its theme of society breakdown, greed, domestic violence and school shootings, was originally released in 2000 after a six year gap since The Last Temptation. Like its predecessor, Brutal Planet is a dark brooding and heavy album lacking in the more commercial aspects of Alice's more popular output. And while it's perhaps not 'up there' with his very best it is nevertheless pretty consistent and includes a couple of classics in the shape of It's The Little Things, and Take It Like A Woman. ***
Hot on the heels and in the slipstream of Brutal Planet came Dragontown (2001) - an album that aped its predecessor in terms of style and theme, and described by the Coop as 'the worst town on Brutal Planet'. Again produced by Bob Marlette and with Ryan Roxie (an ever present throughout this reissue set) on guitar, it simply takes the blueprint of Brutal Planet and pops another consistently strong set out of the sausage machine. Highlights? The excellent Fantasy Man, and Every Woman Has A Name. ***½
In contrast, 2003's The Eyes Of Alice Cooper saw Alice return to the garage rock origins of his original success with 1971's Killer. While still retaining the services of Roxy Ryan, he added guitarist Eric Dover to the pack and between them they came up with probably the most vibrant and accessible set songs since the Trash/Hey Stupid albums in 1989 and 1991.
Delivered in a no nonsense, 'back to basics' style this was Alice back at his raw snarling best, the opening track What Do You Want From Me being a prime example. ****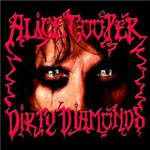 Clearly invigorated by this stripped back approach, Cooper deployed the same formula two years later on Dirty Diamonds (2005). Yet another set of hired guns were brought in, with band members once again contributing to the song writing. But it seems to matter little who AC brings into his band, the sound is always unmistakable.
Once again Dirty Diamonds harked back to the early days of the Alice Cooper band, to my mind the pinnacle he's never quite hit again in his long and distinguished recording career. ***½
So if you've re-discovered Alice as a result of Along Came A Spider, his highest charting album since Hey Stoopid, or his recent Theatre Of Death tour, and are wondering whether to explore this part of his back catalogue - go ahead, you won't be disappointed.
Review by Pete Whalley
---
| | |
| --- | --- |
| | Print this page in printer-friendly format |
| | Tell a friend about this page |