AC/DC Iron Man 2 Sony (2010)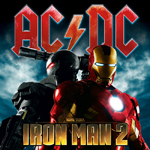 This is the second time that AC/DC have been extensively featured in a film soundtrack. 1986's 'Who Made Who' album featured music featured in Stephen King's 'Maximum Overdrive' with some originals. What you get here is not quite a greatest hits but songs tailored to the Iron Man 2 screenplay. Tracks include 'Back In Black', 'Thunderstruck' and - perhaps inevitably - 'War Machine'.
It's an unbridled trawl through glorious back catalogue, there are no real surprises but for those who eat their popcorn and like the sound of a band they've never heard before, not a bad introduction. It's a shame they didn't include the band's video for the track 'Shoot To Thrill' which includes footage from the film.
And why they couldn't cajole the band into recording something new for this project - I am sure Spidey wouldn't have stood for that or the Hulk for that matter although his green torso will never be a substitute for Angus' nobbly knees.
***
Review by David Randall
---
| | |
| --- | --- |
| | Print this page in printer-friendly format |
| | Tell a friend about this page |
***** Out of this world | **** Pretty damn fine |
*** OK, approach with caution unless you are a fan |
** Instant bargain bin fodder | * Ugly. Just ugly
get ready to rock is a division of hotdigitsnewmedia group