5 BRIDGES The Thomas Tracks (2010)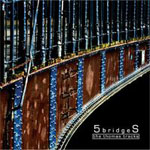 In case you're wondering, here are the facts. This is nothing to do with tank engines and Fat Controllers. 5 Bridges are an excellent progressive rock band from Haarlem in deepest Holland.
Imagine, for a moment, that Genesis had been born in the Netherlands and had met at Chaarterhoos Schkoool, and you're getting there.
Taking their name from The Nice's album title is a bit of a curve-ball as their overriding sound is that of Selling England By The Pound era Genesis, and, for fans of said stadium-fillers, this is like discovering an Aladdin's cave of long-lost tracks, albeit sung by Pierre Van Der Gaabriel.
All this is not taking the piss - this is prog rock of the highest order. Their sound is keyboard-led with searing Hackett-esque guitar pyrotechnics and although the heavily accented vocals are very much an acquired taste, they are, at least, devoid of Gabriel's more eccentric over-indulgences.
The album is a ten track (sharp intake of breath) concept album based on drummer Rob Van Der Linden's novel De Handelingen van Thomas.
Don't let the words 'concept album' bring you out in hives, there is no over-the-top 'Tales From Topographic Oceans' self-gratification here, nor navel-gazing noodling, just 75 minutes of solid progressive rock - yes, with complex passages, but always under control and with wonderful use of light and shade. The musicianship is peerless throughout, with seamless transitions from one passage to the next and the overriding feeling that the band are absolutely loving what they are doing.
For those Genesis fans who lost the band after 'Wind And Wuthering' and for those music lovers just in search of a special work of progressive rock - dive in here and fill your boots - it's essential listening.
A heads-up to the band though - get an English singer and, with the current resurgence of all things prog, great things beckon.
****
Review by Alan Jones
---
| | |
| --- | --- |
| | Print this page in printer-friendly format |
| | Tell a friend about this page |